The Australian Nuclear Science and Technology Organisation's (ANSTO) Lucas Heights campus in western Sydney has been earmarked in a new strategy as Sydney's newest nexus where industry connects with science and advanced technologies.
Under the ANSTO Collaboration Area Place Strategy launched by Greater Sydney Commission the campus will be developed as a precinct devoted to science, innovation and industries of the future for Greater Sydney's South District.
ANSTO is the centre of Australia's nuclear industries housing the country's only nuclear reactor, the Opal open pool, light water research reactor (main picture) which produces radioisotopes for cancer detection and treatment, and neutron beams for fundamental materials research.
Already the home of a number of technology companies such as Silex Systems, ANSTO is also a centre for irradiation of silicon ingots for use in the manufacture of electronic semiconductor devices.

ANSTO also operates the Australian Synchrotron at Clayton in south-eastern Melbourne.
The new strategy was designed by the Greater Sydney Commission (GSC) in conjunction with 17 businesses, local, state and federal government representatives, policy groups and other stakeholders.
Its' vision for ANSTO's Innovation Precinct to become a globally connected community with government researchers and startups creating solutions in a well-connected campus.
ANSTO CEO Dr Adi Paterson said: "ANSTO's Lucas Heights campus will become the place where some of Australia's best and brightest scientists, engineers and graduates connect with emerging industries and entrepreneurs to develop the new solutions that will support our economy and jobs growth into the future."
The strategy identifies a number of key issues which might hold back ANSTO's development, including its relative isolation originally conceived to isolate nuclear facilities from the community.
There is little short-term visitor accommodation, poor transport links to the campus, a need for essential infrastructure and environmental constraints such as risks from bushfires and flooding.
South District Commissioner of the Greater Sydney Commission Peter Poulet said: "ANSTO already has all the right building blocks; the strategy takes this foundation and looks at how we can work, plan and invest collaboratively for the benefit of both the local economy and the international science community."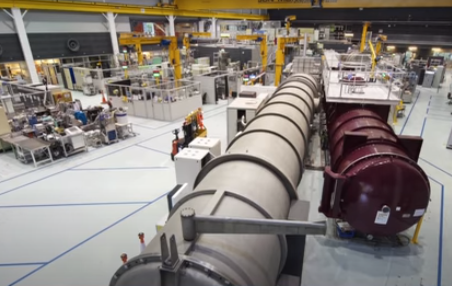 Pictures: ANSTO
Subscribe to our free @AuManufacturing newsletter here.