By Brent Balinski
There are many examples since 2020 of manufacturers of all sizes being forced to re-examine their supply chains.
One comes from John Smith, owner of Smith's Cooking Systems and Smith's BBQ. He began designing and selling cooker cabinets and later microwave trims in 2000, and BBQs and related equipment in 2015.

The BBQ business partnered with a company in China, adapting their designs for the Australian market and selling them here. Smith subsequently designed a new portable BBQ and extender hood for the partner to put together, established a contract with an Australian distributor, and says he could've done quite well out of the boom in caravan and RV adventures that followed the first lockdown.
He suffered two big lead time blowouts, however, and missed an opportunity.
"I could have sold thousands of these little barbecues, but we just couldn't get our hands onto them," he explains.

"Those nine month lead times… that was to get onto the ship and then you've still got four weeks pretty much to get them here. 
"It almost crippled my business."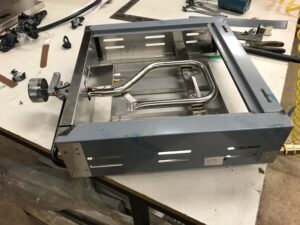 It is one example of material constraints the ACCI-Westpac Survey of Industrial Trends has been describing (since at least mid-last year) as the worst since the Oil Shock of the 1970s.
Smith has responded by doing something he hasn't done since going into business for himself. He has decided to bring production in-house.
"It's taken a little while, and all the new designs. And I've put together the first Smith's Australian made barbecue last night," he proudly tells @AuManufacturing when we speak on Friday. 
Smith adds that a mate in Narellan, in south-west Sydney, helped with fabrication. (Pictured.)
The founder runs a one-man operation in the Riverina, NSW town of Temora, came to cooking gear in 2000. It followed a career in appliance repair, first for other people and then as a business owner. 
He saw a niche making stainless steel boxes – with a hole in the top and one in the front – to house an oven and cooktop and present as a freestanding stove, a design which he patented. These he sold to appliance OEMs, including some big-name German ones.
A microwave trim design followed. He estimates he has sold between 100 – 120 thousand of those in the last 20 years, made, assembled and packed by a contract manufacturer at Caringbah.
Smith says these niches closed up over time, and the companies getting microwaves made in China ended up getting the trim made there too.
He is optimistic that his reshored BBQ manufacture era will be a success, citing the caravan distributor relationship, features such as a flame failure device that is lacking from the two market leaders, and a stylish, European-looking design language.
Smith says he has invested $250,000 so far in a collaborative robot, press brake, a fibre laser welder, and gantry system for loading sheet metal parts. He is currently seeking an integrator for the equipment.
He estimates he will spend another $300,000 if he can find it for a fibre laser cutter, citing other planned investments such as a 20 kilowatt rooftop solar array (followed by another 20 kilowatt added after that.)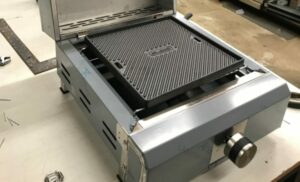 Labour and energy costs are the two biggest impediments to being competitive here, Smith reckons, and the remedies are robots and renewables.
He plans to sell 2,000 BBQs in ANZ in 2022, open a US factory and sell 5,000 there in 2023-24, and hire seven at the Temora factory when it's at full capacity.
Smith is looking to have it up and running for a launch during the town's big biennial airshow, to be held in October.
He is one of many company owners we have spoken to since 2020, simultaneously hurt by supply chain issues and confident that reshoring is both the answer to this and a way to tap into a pro-locally-made sentiment.  
"I think there is a buzz around at the moment for people wanting to purchase Australian made product over imported," offers Smith.
"There's a lot of companies who are… wanting to fix up their supply chain issues and also have the Australian Made logo on their product."
(Images credit Smith's BBQ)
Subscribe to our free @AuManufacturing newsletter here.