Australian supercar manufacturer Brabham Automotive is continuing to kick goals internationally with its BT62 vehicle securing the GTO class title in the British GT Cup and its latest model, the BT63 GT2 Concept (pictured) debuting at the Circuit Paul Ricard, in France.
The company is manufacturing 100 BT62's in a factory in northern Adelaide with the BT63 GT2 Concept a specially designed version debuting for the Danish High Class Racing team on October 1 and 2.
CEO Brabham Automotive Dan Marks took to social media and said: "Congratulations to BT62 Competition Spec owner Paul Bailey and co-driver Ross Wylie who secured the GTO Class title in the British GT Cup Championship over the weekend.

"Whilst the BT63 GT2 Concept was debuting in France Bailey and Wylie secured their title in the UK.
"The season was filled with many podiums, fastest laps and an outright victory at Silverstone."
The Brabham BT63 GT2 Concept incorporates a number of significant changes from its unrestricted predecessor, the BT62.

Chief among them, it has slightly less power from its 5.2 litre, naturally aspirated V8, while carrying more weight in line with GT2 power-to-weight regulations.
It has a purpose-designed aero package derived from the BT62R, with the splitter, diffuser and rear wing configured for minimal drag and maximum straight-line speed.
It also has a competition-grade steel brake package from Brembo.
Also carried over from the BT62R is the lightweight chromoly safety cell, carbonfibre body, and adjustable double-wishbone suspension.
Marks said the company was pleased at how well the BT63 GT2 Concept came together.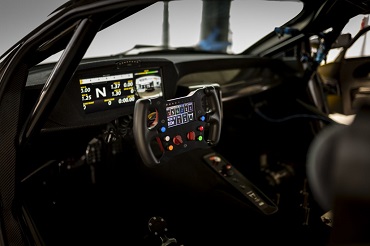 Pictures: Brabham Automotive/
Subscribe to our free @AuManufacturing newsletter here.