@AuManufacturing's Celebrating Australian Made editorial series turns today to starting up as a manufacturer. Peter Roberts talks with Tom Brown of Origin K9.
Not every start up manufacturer that begins life in a garage can hope to end up the size of an Apple or an iPhone.
But every time an Australian sells their car and clears out their garage to make way for machines, as Tom Brown (pictured, below) has just done on the Gold Coast, they have dreams of producing something that makes a difference to those who will eventually use what they make, as well as some good to their families and community.
Brown, director of Origin K9 canine equipment, was formerly an Australian Special Forces Assault dog handler, for a dozen years serving the military and law enforcement alongside working dogs when he began down the path to becoming one of Australia's newest manufacturers.

After leaving in 2019 he explains: "I began training dual purpose dogs for government departments.
"I realised the equipment people were using was either inferior, not fit for purpose or extremely hard to get a hold of.
"Or in fact imported."
Brown knew from his own work that there were always small things about a dog's equipment that a handler would like to change, and initially he made some dog collars and leads at home with the help of his partner.
"I then started asking questions of former colleagues in relation to kit and discovered there was no one, particularly not any doggies, who were offering a full range of canine equipment.
"I also discovered no one had ever spoken to or liaised with these handlers in order to provide a better service."
Brown breaks off the conversation for a moment to pick up his young child, reassuring the infant with the most gentle and tender of words, before he continues.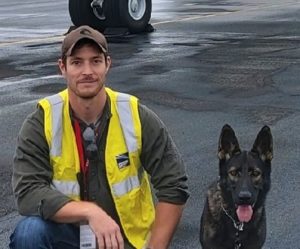 Next came an east coast road show in 2021 talking to military units and state and federal police, eventually developing a range of tactical canine equipment which he had manufactured by a third party manufacturer.
The range includes collars, leads, harnesses, vests, strops and water bowls, with Origin K9 still offering a degree of customisation with its products.
Finding an outside manufacturer introduced delays into the system and was a little 'clunky' to handle, Brown is at the stage of his young business of clearing out the space, investing in equipment and raw materials, and employing his first employee to handle the sewing.
He expects to employ further staff before Christmas and is aiming to achieve ISO:901 accreditation by July 2023.
Brown estimates there are more than 1,500 dogs and handlers so he does not expect to be running an Apple or iPhone any time soon, but he does have big ambitions.
Already selling to numerous, mainly policy services, Brown is mulling a possible trip to the United States next year.
Though he stops himself and says that he hasn't decided whether he should consolidate in Australia first or go to what is the world's biggest market early.
Sales are going strong and Brown himself has 'heaps of ideas' for new products and services. He ascribes his success to simply asking users what they want and having some understanding himself that there is more to how a professional handles and operates a dog than meets the eye.
Once manufacturing is bedded down Brown's focus will be on spreading market awareness.
His plans include attending anniversary celebrations for the Queensland Dog Squad and later this year the giant Land Forces expo at the Brisbane Exhibition and Convention Centre in October.
There he will share a stand with a a dog training company and this time they will bring a dog.
Brown admits he is not one who has had a particular interest in dogs.
"Dogs are just another sentient being that you have to negotiate and learn to work with."
But a dog – or better still a puppy – is always the secret weapon to attracting attention and getting noticed – even in the middle of a technology-packed military expo.
I guarantee their stand will be the most popular of any at the show.
Pictures: Origin K9

@AuManufacturing's editorial series – Celebrating Australian Made – is brought to you with the support of the Australian Made Campaign Ltd, licensor of the Australian Made logo. For more information about using the logo, visit this link.
Subscribe to our free @AuManufacturing newsletter here.