With Australian Made Week now underway, @AuManufacturing's editorial series – Celebrating Australian Made – examines the potential of artificial intelligence in Australia's manufacturing revival. Cori Stewart of Brisbane's ARM Hub outlines help available to manufacturers to master AI.
AI, or artificial intelligence, is disrupting manufacturing value chains and creating enormous potential for growth in Australian manufacturing as we emerge from the Covid-19 pandemic.
Australian manufacturers increasingly manage data as an asset. As companies implement technology and collect growing amounts of data, organising this data to generate value is a journey rather than a solution.
Each step of the journey might solve a discrete problem, or exploit an opportunity, and the end goal could be, for instance, end-to-end supply chain automation.
The key value of AI is its ability to find insights in large data sources that are too cumbersome for humans to analyse.

This data is then used to predict, and even build, the future by creating products such as simulation engines.
Armed with a few data management principles, manufacturers can begin using AI to optimise outcomes like quality management, energy management, yield improvement and predictive maintenance.
First a definition – artificial Intelligence refers the ability of a computer program or a machine to think and learn. Advances is AI algorithms, computation power, connectivity and data science are rapidly increasing what AI can do.
AI outstrips all other technologies for its potential in securing manufacturers a sustainable market advantage. Yet AI adoption in manufacturing lags behind most industries.
Typically, the first step into AI for manufacturers is to make smarter products and implement smarter manufacturing processes.
Still, this is often just the beginning of realising the benefits of AI.
Manufacturers that use AI may go on to optimise the entire supply chains, build disruptive platform technologies that have global market reach, create digital twins, become data resellers, or data analysts that provide industry insights for which clients are willing to pay a premium.
As a not-for-profit, the ARM Hub is here to help manufacturers bridge the skills gap in AI and harness the potential that AI offers. We provide AI know-how and AI solutions, other science and technology expertise, access to smart tech companies, business model innovation, design-led processes and assistance accessing funding.
In our first year we worked with over 200 companies. Our experience tells us that it doesn't matter where a company starts on the digital transformation journey, rather that the company has a unique value proposition and a measure of absorptive capability to maintain and grow its digital capabilities.
ARM Hub collaborators, Verton Technologies Pty Ltd is a success story. Verton invented an IoT enabled, remote-controlled load-management system that eliminates the need for human held tag lines.

Verton Pty Ltd at ARM Hub Learning Factory
Verton's products not only delivers safer, faster and smarter crane operations, but its AI capabilities create real market advantages by delivering market intelligence, project planning direction, alerts, and product improvement insights.
While Verton commenced its collaboration with ARM Hub experts seeking assistance to robotically manufacture its load orientation products, the company pivoted when the value of the data it could collect became clear.
Today, Verton manufactures high value AI enabled remote control units and offers them as both a product for sale or lease as well as a service. The company has secured international joint ventures and grown from a start-up to a high value exporting Australian SME.
Verton now has its sights set on a new 'big data' technology platform set to disrupt the construction industry.
Australian Droid and Robot (ADR) is another Australian SME that engaged ARM Hub to supplement its AI capability.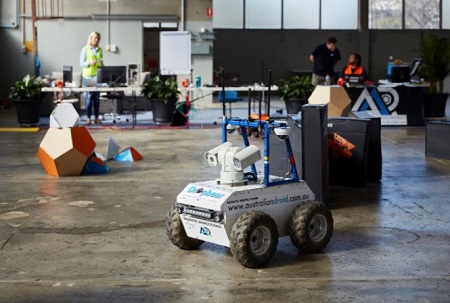 Australian Droid and Robot Pty Ltd at ARM Hub Learning Factory
ADR, an established provider of automated vehicles into the mining industry, is now applying its robotics and automation capabilities into adjacent industries including emergency search and rescue for which ADR has invented a highly specialised AI enabled drone.
Other ARM Hub projects using AI deliver outcomes across a range of industries, from creating a platform technology for the mass manufacture of construction products to employing computer vision and machine learning algorithms to detect disease in ginger root stock.
ARM Hub experts are also combining machine learning with simulation to predict optimal blend ratios in zinc production processes, and machine learning with robotics to automate hot, tedious, and unsafe laundering processes.
We are also creating digital design platform technologies, machine learning and robotics that are being applied to mass customizing the manufacture of furniture components for people returning home after suffering spinal cord injuries.
The expanse of AI and robotics deployed in the ARM Hub is demonstrating that manufacturers of all sizes and maturity levels can unleash their AI potential to grow.
ARM Hub's newest team member Professor Will Browne has relocated from New Zealand armed with expertise in AI, but more specifically, artificial cognitive systems and Explainable Artificial Intelligence (XAI).
Will is Professor and Chair in Manufacturing Robotics at Queensland University of Technology (QUT), a shared position with CSIRO that was created to provide technical leadership in the ARM Hub.
With developments in XAI, a trend to enable artificial systems to be transparent to human inquisitiveness, this technology is setting a precedence for more intuitive AI to better serve the workforce.
Professor Browne said: "We are at the forefront of advanced artificial systems, such as AI and robotics, entering day-to-day activities to complement humans.
"There are numerous opportunities, from modernising manufacturing processes and products in mining and resources to creating medical applications, which will enhance people's lives and create new businesses."
If you are a manufacturer looking for independent advice about AI, or seeking to secure your digital advantage, the ARM Hub can assist.
Cori Stewart is founder and CEO of the Advanced Robotics for Manufacturing (ARM) Hub, a not-for-profit company on a mission to digitally transform Australian industry. The ARM Hub specialises in AI, robotics and automation and collaborates with industry to modern its manufacturing practices, build workforce capability, commercialise new technologies and create new businesses. Cori was awarded WiT's Professional Technology Leader of 2020.
@AuManufacturing's editorial series – Celebrating Australian Made – leading up to Australian Made Week (24 to 30 May) – is brought to you with the support of the Australian Made Campaign Ltd, licensor of the Australian Made logo.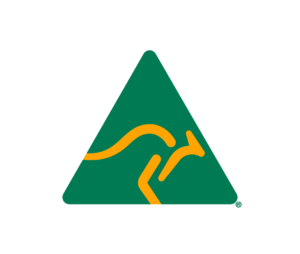 Picture: Cori Stewart
Subscribe to our free @AuManufacturing newsletter here.