Australia's textile clothing and footwear industries, one of the principal victims of unfettered and often unfair import competition from China, has been the surprise beneficiary of Covid-19 disruptions, according to new figures from industry analysts IBISWorld.
With Chinese exports disrupted Australia's knitted product manufacturing industry achieved a 13.2 per cent increase in revenue to $90.6 million in 2020-21.
IBISWorld analyst Ross Dean said: "Australian knitted product manufacturing has been in long-term decline, with revenue contracting at an annualised 5.6 per cent over the five years through 2020-21.
"However, export revenue has increased by 37.1 per cent during the Covid-19 pandemic, providing a lifeline to Australian businesses."

The rise was set against a contraction of clothing retailing by 8.5 per cent in 2019-20.
However, the outbreak disrupted supply across North Asia, which typically accounts for close to 40 per cent of the apparel manufacturing.
"The loss of supply from Asia left the global economy looking for other sources of clothing, supporting demand for Australia's clothing manufacturers. For example, Australian exports of knitted apparel to Japan jumped by more than 320 per cent in 2019-20, and exports across the men's and boys' wear manufacturing industry increased by 33.9 per cent."
The drop in China's output was only temporary, but it has expanded export opportunities for Australia's clothing manufacturers, especially with recent tariff reductions on apparel exports to New Zealand.
New Zealand is the primary export market for Australia, with an estimated 34.7 per cent of knitted product exports going across the Tasman in 2020-21.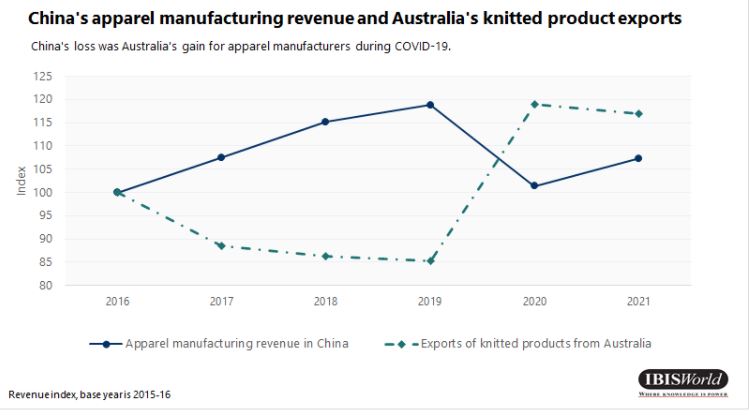 Picture: Uimi Knitwear, Image: IBISWorld
Subscribe to our free @AuManufacturing newsletter here.