By Peter Roberts
Boss Capital Holdings director Eddie Kocwa (pictured below) is a man on mission to restart Australian automotive manufacturing, starting with plans to partly build a electric utility vehicle sourced from US start-up Atlis Motor Vehicles in 2023, then growing capability to produce a full electric ute by 2026.
While many others have dreamed of such a feat, Kocwa is building on existing capabilities, including in his SCD Remanufactured Vehicles business (main picture) which employs 74 spending 200 hours per vehicle to convert each to right hand drive.

Right now the Queensland company is growing to partly manufacture the fast-charging Atlis electric utility capable of 800km between charges and able to tow up to 9000kg.
Kocwa told @AuManufacturing his plans were to import 19,000 Atlis vehicles between 2023 and 2026, manufacture locally components needed for conversion including dashboards, and distribute them through his Australian Manufactured Vehicles (AUSMV) network in Australia and South East Asia.
Kocwa said: "When we are talking about electric vehicles it will be a different story.

"We will import them partly manufactured into Australia and complete the job here.
"We are moving to bring manufacturing back to Australia."
Boss Capital is satisfied it has the financial muscle to finance the expansion internally, and has been given a fillip by massive supply chain issues caused by lack of key vehicle components which have disrupted importing during Covid-19.
"The biggest problem right now is supply.
"If we want to hold our own destiny in our hands we have to take control of supply."
Boss, which is also behind the Australian owned certification, is buoyed by greater acceptance among governments, business and the public of the need to bring manufacturing back onshore.
"We are trying to walk before we can run.
"Now we remanufacture vehicles to right hand drive – it's a big operation, we have a lot of vehicles that we are moving through.
"We are setting ourselves up so we can take the next step in 2026, when (full manufacture) will just be a natural progression from today."
The company is now in talks with EV platform manufacturers and plans to select a technology supplier whose platform can be the basis for a locally designed and engineered and manufactured large Australian electric utility vehicle.
Kocwa said: "These platforms are like a skateboard, and that allows us to go ahead with the rest of the design.
"Our niche in Australia is the utility market, a US pick-up style of vehicle but suited to our market.
"We are already well represented in that area of the market."
Kocwa has commissioned an engineering consultancy to develop plans for a new manufacturing facility.
He has also established Advanced Manufacturing Queensland along with Griffith University to spearhead engineering and design.
"Automation is part of our plan from day one.
"My vision is the next vehicles are going to be different from today's ones with engines, and (with automation) there is no reason why it should not be possible for Australia to manufacture electric vehicles competitively."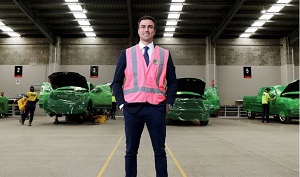 Pictures: Boss Capital
Subscribe to our free @AuManufacturing newsletter here.