By Natasha Jha Bhaskar
Summary
In 2019, the Australian government released the 'Critical Minerals Strategy' which wanted to position the country as a "world powerhouse" in critical minerals. In June 2020, Australian Prime Minister Scott Morrison and Indian Prime Minister Narendra Modi agreed to upgrade their countries' bilateral relationship to a comprehensive strategic partnership. Both countries have signed a memorandum of understanding (MoU) that will explore opportunities to increase trade, investment and research and development in critical minerals. The MoU identifies specific areas that include information-sharing between the two countries; connecting research institutions and universities; and collaborating on actions to support stable, secure and resilient supply chains for critical and strategic minerals. In November 2020, the first India-Australia Critical and Strategic Minerals Joint Working Group meeting agreed on actions to be delivered in the specified areas of the signed MoU. This joint working group is a significant step in implementing the MoU on critical minerals between the countries. This paper explores India's need for critical minerals in the new energy economy and Australia's strength in the critical minerals sector. It also offers key suggestions on ways in which India and Australia can enable this partnership.
Geopolitics of Critical Minerals in the New Energy Economy

The global scramble for critical minerals has picked up considerably over the last 10 years. The shift to advanced and sophisticated technologies in industrial, defence, scientific and renewable applications integral to a country's' future competitiveness and economic growth; regional and geopolitical supply chain risks; trade wars and economic uncertainty; thrust towards a green industrial revolution; and the most recent COVID-19 crisis explain the rush, which has accentuated due to global mineral dependency on China (Table 1).
The economic importance of critical minerals (for example, chromium, tungsten, gallium, tantalum, germanium, selenium, cobalt, lithium, cadmium, rhenium, tellurium, platinum group of elements, rare earth elements) for key industries, and their supply risks make them strategically important, as opposed to non-critical bulk commodities like oil, gas, coal or iron-ore. The minerals are critical for several finished goods, including automobiles, mobile phones, wind turbines, computers, aircrafts and advance manufacturing high-tech applications.1 Clean energy technologies require more critical minerals. In comparison to a conventional car, an electric car uses five times more minerals; wind farm requires eight times more minerals than a gas-fired plant of the same capacity. Technologies and equipment with higher efficiency and lower emissions rely heavily on the use of these critical minerals.2
Table 1: Global Production within a Single Country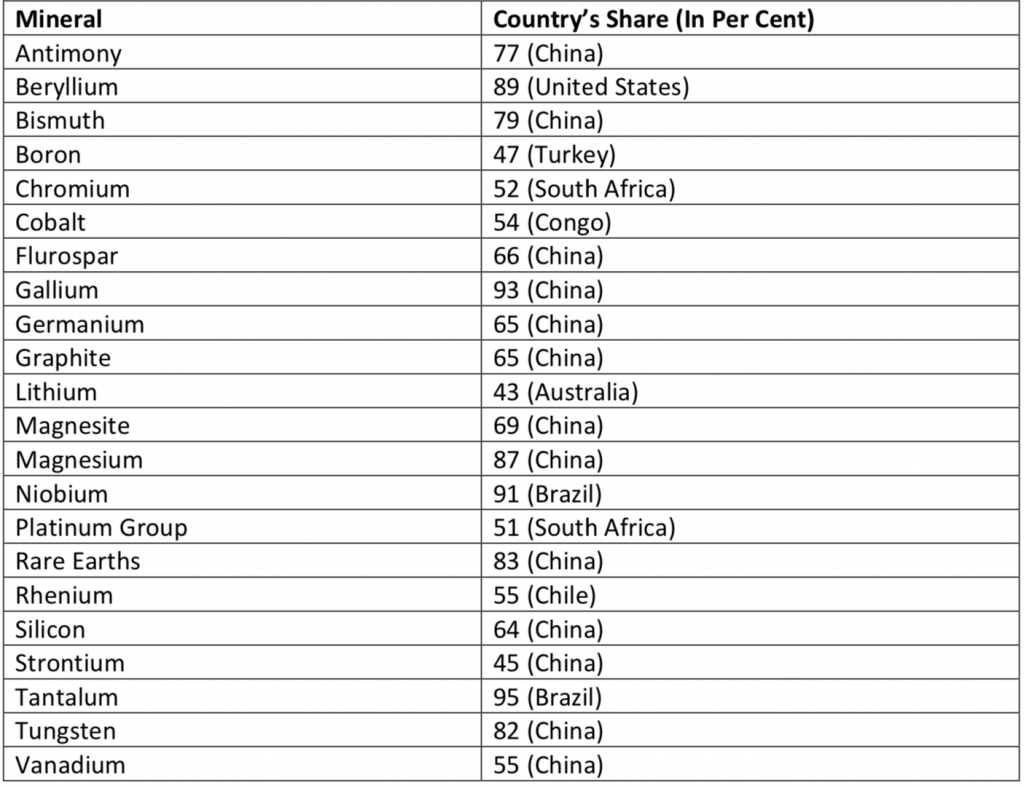 Source: US Geological Survey 2020
Criticality is a subjective concept (dependant on context and dynamics); hence each country has identified its own set of critical minerals according to its industrial needs and energy endowments. Many of these critical minerals are mined both as primary products, as well as extracted as companion products or in traces while mining other minerals. Extraction, processing and refining of these minerals (which are both expensive and damaging for the environment) are factors that have restrained access to these deposits in other countries and has led to geographical concentration of these minerals.
China's dominance of critical minerals is indisputable, with its focus on both mining and processing of critical minerals. Almost 50 to 70 per cent of global lithium and cobalt refining, 90 per cent of processing operations converting rare earths into metals and magnets and 70 per cent of global electric vehicle manufacturing capacity with the largest number of lithium-ion battery mega factories under construction are dominated by China.3 China values its dominance of the rare earth elements market more for geopolitical reasons than commercial ones, as a leverage to deal with trade conflicts and to address fierce power contest.4
The appreciation of risks arising from excessive reliance on China has led to countries collaborating with other like-minded countries to build mining-exploration and mineral processing alliances. The aim is to de-risk supply chain dependency and monopoly of minerals, bullet-proof complex and interconnected supply chains vulnerable to disruption, and expand greater manufacturing of mineral-based products important to economic and national security.
The Australian mineral strategy reflects these priorities. Its international partnerships on critical minerals are focused on addressing supply chain risks, advancing research and promoting ethical sustainable practices. The recent Resilient Supply Chain Initiative (RSCI) between Australia, India and Japan aims to develop dependable sources of supply and attract investment5. Critical minerals could emerge as a key sector in the RSCI.
Australia's Strengths and India's Priorities
The Australian government released the 'Critical Minerals Strategy' in 2019, which hoped to position Australia as a "world powerhouse" in critical minerals, supplemented by a focus on financing and supporting projects to extract and process critical mineral supplies. The new Critical Minerals Facilitation Office established in January 2020, is aimed at acting as an advocate for Australia's critical minerals sector, assisting projects in obtaining investment and off-take agreements. The Australian government has also allocated AUD$4.5 million (S$4.69 million) towards institutional research and development programmes focused on critical minerals (CSIRO – the Australian Nuclear Science and Technology Organisation and Geoscience Australia). Several Australian universities have also initiated research programmes to investigate critical minerals.
Australia has moderate to high geological potential in 24 minerals deemed critical by many countries and can emerge as a key supplier to markets heavily import dependent on China. Appendix 2 compares India's need for most and moderately critical minerals based on economic importance and supply risks from import dependency; with Australia's identified list of 24 critical minerals, where Australia can emerge as a potential supplier for India, based on a Council on Energy, Environment and Water 2016 study (Appendix 1).
Building technological capabilities and infrastructure investment are key components of India's aspiration to become a US$5 trillion (S$6.72 trillion) economy by 2024. The India-Australia memorandum of understanding on critical minerals, signed in June 2020, is a step towards building partnership in this important sector.6 The first Joint Working Group meeting between Australia and India held in November 2020 agreed to accelerate growth in critical minerals trade and investment, including undertaking a demand study to map out India's requirements for critical minerals inputs.
India's transition to Industry 4.0 and future industry competitiveness (led by automation, robotics, digital applications, advanced manufacturing and sophisticated applications) requires a new mineral mix with supply chain resilience and reliability. Key industries relying on critical minerals include telecommunications, electronics, energy, healthcare, defence, aerospace, and transportation. Goals like Zero Emission vehicle market and adding 450 GW of renewable capacity by 2030 will require a sustained and secured supply of critical minerals. 7 The EV battery industry has the potential of becoming a US$300 billion (S$402.53 billion) industry in the coming 12 years. Most lithium-ion batteries also require cobalt and graphite, used in retaining and discharging electricity.
Advanced electronics is driving the demand for minor metals and rare earths. India holds one-fifth of the world's rare earth light reserves, but production capacity for commercial use is missing. India is 100 per cent import-dependent for seven out of 12 identified critical minerals and does not have any declared resources for them (Appendix 1). Australia can help India achieve this resource security. The collaboration with Australia fits well with the Indian government's recent international exploration programme (Khanij Bidesh India Ltd [KABIL], a joint venture formed between three state-run companies – National Aluminium Co, Hindustan Copper Ltd and Mineral Exploration Corp) for acquiring lithium, nickel, cobalt and rare earth mines overseas to address growing demands in the domestic market.
Next Steps
India must consider a three-tier policy for the mining sector, which includes traditional raw mineral commodities, mining equipment and technology services, and critical minerals. However, India's National Mineral Policy 2019 falls short of stating a focused strategy on developing an entire value chain of new age minerals, acquiring intellectual property on extraction and downstream product development which ensures sustainable development.8 Collaboration with a mineral-rich economy like Australia can be significant in this regard. The collaboration will prosper from a bilateral sector-specific trade arrangement and a dedicated institutional set up for studying the needs/availability of critical minerals going forward. Australia can play an integral role in addressing India's need for new energy mix, supplementing it further with enhanced investments through its institutional investment houses towards common green goals. The green-financing opportunity for sustainable gains can create an effective engagement model between both countries.
The RSCI can help build new investment and trading relationship for critical minerals, along with fostering value-added processing, refining, and manufacturing. Currently, the focus largely has been on raw resource extraction; however investment in specialised technology can ensure higher economic gains.9
Critical minerals require a bespoke approach to extraction.10 Hence, customer needs and product requirement must be understood beforehand. It asks for locking in off-take agreements and investments in advance, to fund project technology as well as securing supplies from projects which otherwise have long gestation period. The buyer-supplier relationship is symbiotic and exclusive in the critical minerals sector, and asks for an early long-term commitment from both sides to ensure steady supply.
The critical minerals sector, as such, can benefit significantly from a bilateral focus on a hybrid approach combining innovative skills and investment potential of private enterprise with the strategic foresight of public sector institutions.11 Such foresight should also include efforts to scale up research on geological and material sciences.
Collaboration and engagement, addressing barriers and investment needs, building trusted and transparent supply chain, technology transfer and sharing intellectual property for mineral extraction will create the future roadmap for Australia-India engagement in the critical minerals sector.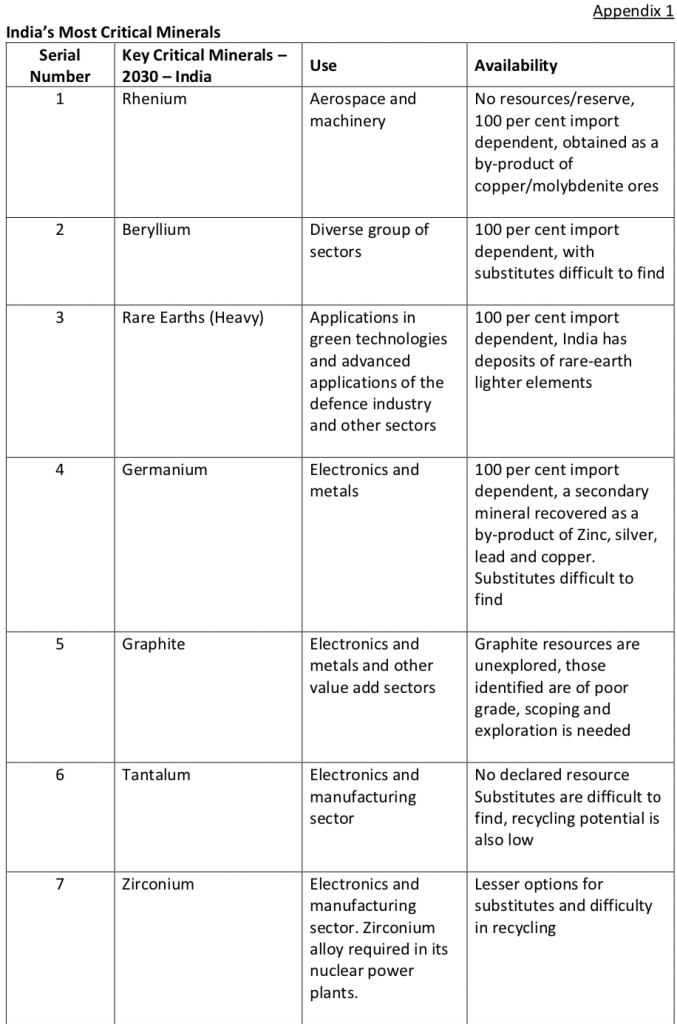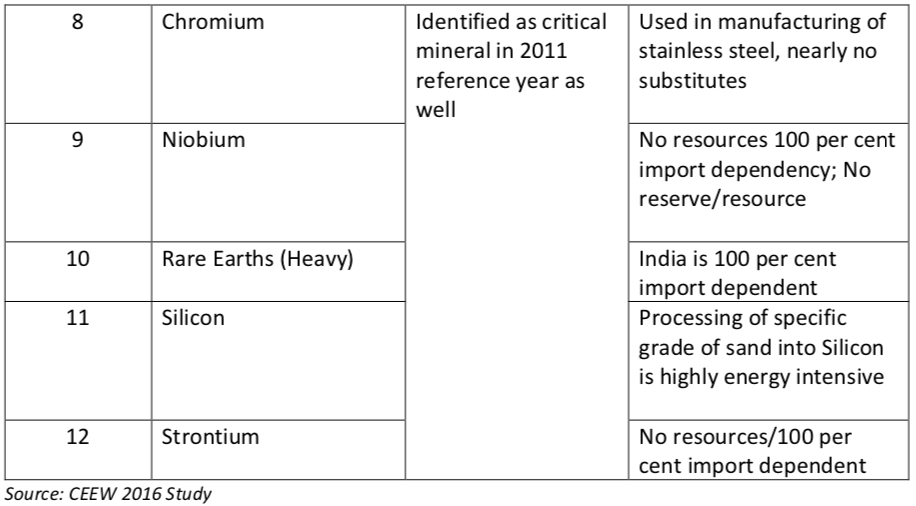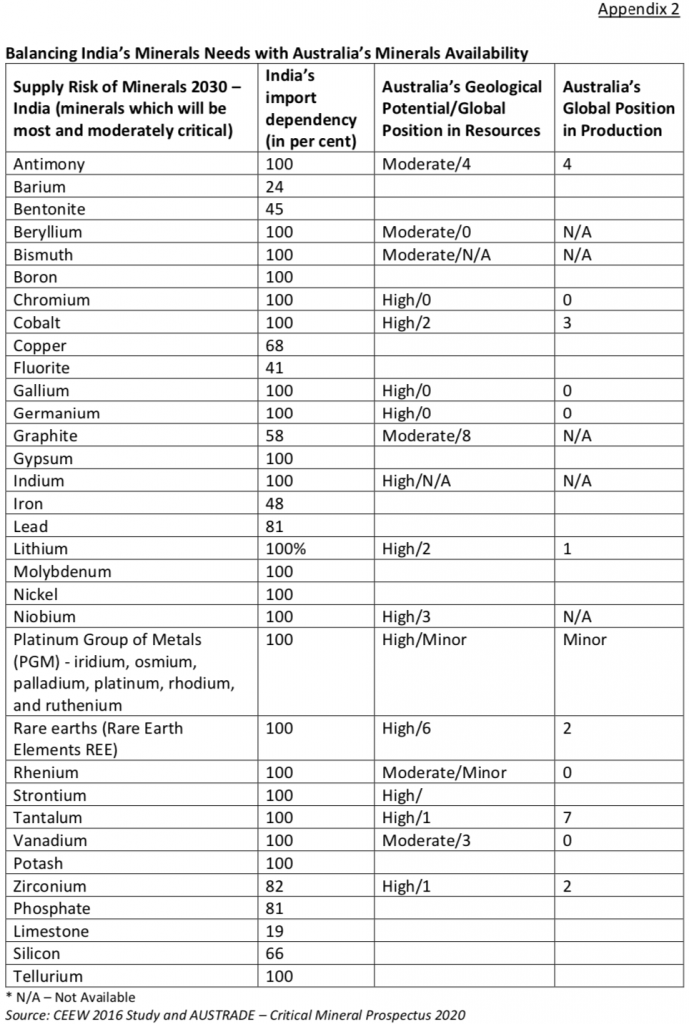 Ms Natasha Jha Bhaskar is General Manager of Newland Global Group, a corporate advisory firm specialising in the Australia-India space, based in Sydney. She can be contacted at [email protected]. The author bears full responsibility for the facts cited and opinions expressed in this paper.
This article originally appeared at the National University of Singapore's Institute of South Asian Studies (ISAS) website.
Photo credit: Wikimedia
Subscribe to our free @AuManufacturing newsletter here.
Footnotes
Jackie Northam, 'COVID-19 Pandemic Highlights U.S. Reliance On China's Rare Earth Metals', NPR, 17 July
2020. https://www.npr.org/2020/07/17/892195748/covid-19-pandemic-highlights-u-s-reliance-on-chinasrare-earth-metals. Accessed on 10 March 2021.
Tae-Yoon Kim and Milosz Karpinski, 'Clean energy progress after the Covid 19 crisis will need reliable
supplies of critical minerals', IEA Report, 6 May 2020. https://www.iea.org/articles/clean-energy-progressafter-the-covid-19-crisis-will-need-reliable-supplies-of-critical-minerals. Accessed on 10 March 2021.
ibid.
Emily de La Bruyère and Nathan Picarsic, 'Absolute Competitive Advantage: Rare Earth Elements in China's
Strategic Planning" Actionable Geopolitical Insight', Horizon Advisory, June 2020.
Australian Government Department of Foreign Affairs and Trade, https://www.dfat.gov.au/news/mediarelease/australia-india-japan-economic-ministers-joint-statement-supply-chain.
Australian Government Department of Foreign Affairs and Trade, https://www.dfat.gov.au/geo/india/
Pages/joint-statement-comprehensive-strategic-partnership-between-republic-india-and-australia.
These include indium, gallium selenium, cadmium, tellurium, silicon, silver, tin, germanium, molybdenum
for solar photovoltaic (PV) energy; copper, REE (dysprosium, neodymium, praseodymium, yttrium,
terbium), cobalt, manganese, chromium, molybdenum, nickel, iron, boron, barium for wind energy;
lithium, cobalt, nickel, graphite, manganese, vanadium, zinc, iron, chromium, for storage facilities; and
aluminium, copper, germanium, steel, zinc, tin for grid transmission.
Biplob Chatterjee and Aparna Roy, 'National Mineral Policy 2019: a lost opportunity', Observer Research
Foundation, 23 July 2019. https://www.orfonline.org/expert-speak/national-mineral-policy-2019-a-lostopportunity-53024/. Accessed on 10 March 2021.
Jim Stanford, 'A Fair Share for Australian Manufacturing: Manufacturing Renewal for the Post-COVID
Economy', The Centre for Future Work at the Australia Institute, July 2020.
Jeffrey Wilson, 'Strategies for Securing Critical Mineral Value Chains', Perth USAsia Centre, April 2020
Saleem H Ali, Perrine Toledano, Nicolas Maennling, Nathaniel Hoffman and Lola Aganga, 'Resourcing Green
Technologies through Smart Mineral Enterprise Development: A Case Analysis of Cobalt', Columbia Center
on Sustainable Investment, Columbia University, February 2018.