Analysis by Peter Roberts
One of the features of new methods of production that are emerging as part of the industry 4.0 revolution is the fact that Australian industrial machine manufacturers are coming to the fore.
@AuManufacturing has reported on the several companies that are making innovative 3D printing industrial machines locally from SPEE3D to Amaero International and Titomic.
All are finding their biggest markets overseas, as is a lesser known young company in the more traditional manufacturing space of welding – K-TIG.
Last week the company joined forces with armour steel maker Bisalloy and fabricator Axiom Precision to compete for defence contracts such as submarines and armoured vehicles.
Such collaboration, which is targeting Australia's requirement for more than $10 billion worth of armoured vehicles, are the sort of partnerships that can multiply opportunities for Australia's mostly SME manufacturing sector.
But, according to a just-released investor briefing, K-TIG's unique technologies have allowed it to gain a foothold in a number of key markets and a customer list including GE, Siemens, Bilfinger and the Defence Materials Technology Centre.
K-TIG (Keyhole TIG) is a highly refined, keyhole variation of TIG/GTAW developed by the CSIRO more than a decade ago that dramatically improves cost, quality and welding productivity.
K-TIG makes welders exponentially more efficient with eight times the penetration and up to 100 times the speed of conventional GTAW, as well as reducing or eliminating the requirement for filler wire.
Recently K-TIG entered the US marketing targeting the US pressure vessel market.
The company has shortlisted target customers and is rolling out the development of strategic partnerships and in-country direct marketing.
K-TIG is also well established in nuclear industries, particularly in the UK where its systems manufacture 50 per cent of the nuclear containers in use as the country decommissions 17 nuclear sites.
The Nuclear Advanced Manufacturing Research Centre is also working with a K-TIG welding system.
But another new focus may just have even greater potential – the sale of welding as a service where clients are charged for linear metres welded rather than on the sale of individual machines.
The investor update compared the $500,000 in fees it received from one Argentinean water pipeline welding project which involved the sale of five welders, with the ongoing revenues that would have been earned through its new licensing model.
During the latest quarter K-TIG converted one existing customer, Primus Pipe & Tube to the licensing model, with both companies seeing advantages for themselves in the new arrangement.
That deal involves the deployment of three K-TIG units with service delivery via a cloud-linked controller.
The ability to manufacture industrial machines is a key element of defence and economic security, with such novel approaches to the customer one way to ensure the latest crop of machine builders, including K-TIG, grows and prospers.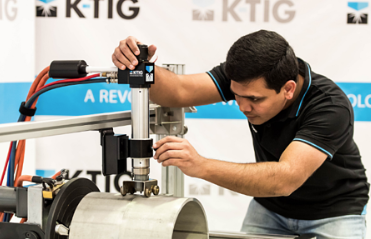 Pictures: K-TIG
Subscribe to our free @AuManufacturing newsletter here.