Plastic Forests takes in contaminated plastic films, has capacity to produce 5,000 tonnes of new products from these per year, and currently has a lot of headroom. David Hodge tells Brent Balinski about what could be done to encourage demand.
High-density polyethylene items can and do get recycled in Australia, but it's generally pretty lonely for used low-density polyethylene film.
"We're still the orphans: nobody really wants to come into the flexible film space or sell plastics to other people," David Hodge, managing director of Plastic Forests, tells @AuManufacturing, adding that there's generally too much cost and effort involved for companies to bother.
"If you've got a piece of 10 micron plastic and it's got some soup on one side – or whatever it is – you generally end up with more contamination than plastic."

Wet-washing was ruled out when the company was being formed; a kilo of film takes three to six litres of water, and creates another waste stream. It took them four years of R&D to develop a process that could dry-clean plastic films. Its achievements so far include being named one of Westpac's Businesses of Tomorrow in 2017, and the NSW government Green Globe Award last year. 
Plastic Forests turns HDPE, LDPE and polypropylene films into resins, and these resins into a growing number of useful items. Since getting started in 2010, they have made garden products and cable covers, released a mini-wheel stop this year (containing the equivalent of 155 single-use shopping bags) and are developing two new products for release by the year's end. One of these is dunnage with numerous claimed benefits over wood versions. A year ago they decided to move away from selling resins and focus nearly entirely on non-commodity items.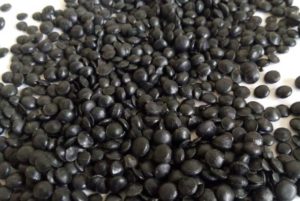 In round terms, they've saved 2,000 tonnes of contaminated film from landfill so far.
At the moment it is very hard to keep up with the material coming into their Albury facility. What goes in includes bread bags from Tip Top, compost bags from ANL and deliveries from councils. 
"It's a different business model where you don't get just in time: you're getting the material whether you want it or not," says Hodge.
"It's a little bit easier to go and chase it when you don't have it, but right now, we've got people on waiting lists going out 12 months."
Plastic Forests employs between eight and ten, and has a capacity of about 5,000 tonnes per annum, which it currently operates well below ("we don't have enough products and we don't have enough customers.") It hopes to have five lines up and running next year and estimates its headcount could reach 50 if enough demand is generated.
So what is needed to generate that demand?
Hodge calls virgin polymer taxes, used overseas and sometimes suggested as part of the recycling discussion, a "big stick" and not much help to them as a recycler/re-processor/manufacturer. The same goes for barriers to imports. 
"The government can't put a 20 tariff on all the plastic garden edging coming in from overseas because then you're just going to do a Trump and start trade wars," he adds.
Tax incentives for end users purchasing recycled content are more appealing, Hodge believes. The film business MD believes government could consider tax offsets like those offered to the other film (namely motion picture) business.  
"The [Australian Taxation Office] could easily employ that straight across into the recycling industry, into recycling and procurement. It's not reinventing the wheel, but it's gonna make the wheel go a hell of a lot faster," he says.
"I've got a very large public corporation that we're dealing with and we could supply them 2.5 million items a year, but they will not spend one cent more than on what I make compared to what they're using. They want to be green, but it's such a big expenditure, and it's millions and millions of dollars a year on this particular item that we could make.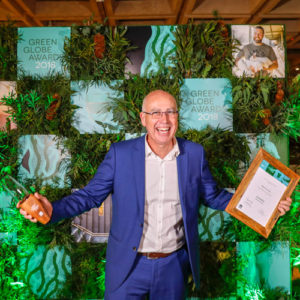 "If they had a 105 per cent, 160 per cent tax deduction on [recycled product] that would make the difference for us to create another 20 jobs."
The optimists believe that Australia can and must build its own recycling industry, and that an eventual waste export ban provides an opportunity to do so. 
Hodge believes the ban is "fantastic," but presents "a massive task," and will require more money than people recognise. 
He also welcomes the apparent rise in appreciation among government, corporation and citizens that "fast and disposable" are destructive, and that we must start dealing with our own mess.
"I speak to landfill operators, one in particular in northern Victoria, they had to dig out a cell, the cell was 45 years old and all the silage plastic that had been in there for 45 years in the ground looked no different to the stuff they put in yesterday," says Hodge.
"I think we have got this massive responsibility, this massive accountability, and we've got to stop kidding ourselves: there is no away."
Main picture: The Fifth Estate. Other pictures via Plastic Forests.
Subscribe to our free @AuManufacturing newsletter here.