By Peter Roberts
It was back in 2014 that Coalition defence minister David Johnston said he would not trust the government-owned submarine builder, the Australian Submarine Corporation, to build a canoe.
What is now ASC Pty Ltd just might be on the way to a resurrection, but this time as an addition to BAE Systems Maritime Australia.

This would give meat to the company's own considerable ambitions in Australia, while also placing our continuous naval shipbuilding program for submarines and surface ship under a single owner.
The intriguing possibility comes from the fact that Laing O'Rourke is already well advanced on Phase 1 of the project to build a new submarine yard at Osborne north naval shipyard in Adelaide (main picture) which was to be used by France's Naval Group.
Foundation works, structural steel and the erection of precast panels for four land-based facilities including a Combat System Physical Integration Facility and a Platform Land-Based Testing Facility (PLBTF) are well advanced.

To the south is the $535 million Osborne south shipyard (pictured, below) built by the government's Australian Naval Infrastructure for BAE Systems Maritime, which is in the prototyping phase of the $35 billion build of Australia's new Hunter class frigates.
Sandwiched between the two is ASC, which built the Collins class submarines and was recently confirmed as the site for deep maintenance and large-scale upgrades of the Collins.
BAE Systems bought ASC Shipbuilding as the core of its Hunter-class frigate build, so why not buy ASC itself and add submarines to its Australian businesses?
BAE Systems is in many ways the foreign defence contractor most invested in Australia.
Headquartered in Adelaide, is has 4,000 employees and revenues in 2019 of $11.4 billion, and local technology development, manufacturing and export ranging from the Nulka missile decoy and missile launch software, to Anzac class frigates, Jorn over the horizon radar, passive radars, sophisticated optics and autonomous vehicle technology.
While ASC has lost considerable capability in submarines, it is still a substantial operation of 1,400 people and an existing supply chain of Australian suppliers.
And crucially BAE Systems already constructs the UK's fleet of nuclear submarines including the Astute class thought most likely for Australia at its Barrow-in-Furness shipyard, with reactor modules supplied by Rolls Royce.
We know that if Australia is actually to buy nuclear submarines, possibly a minimally customised Astute, a substantial portion of the work will be done overseas.
It is easy to imagine a hybrid build where Australia constructs the front section at ASC, things like living quarters, torpedo room, ballast tanks and sonars.
The engineering section and command and control compartments would be built in the UK and shipped over in modules to Adelaide for final assembly and integration of US systems and weapons.
With the UK's last Astute to enter service in 2026, the tooling could also be shipped here, and a bonus would be that Adelaide would become part of a global supply chain.
Ownership of the two shipyards by the one company is the surest way to ensure a smooth transfer of technologies and optimum pathway to train the technicians and workers we need.
Of course all this assumes the massive hurdles to establishing nuclear submarine construction in Australia can be overcome, even without considering the damaging ongoing provocation this whole idea is to our largest trading partner and giant of our region, China.
But if we are ever to develop a nuclear submarine industry, ownership of ASC and the entire Osborne complex by BAE Systems looks like our best bet industrially.
To read more on this I suggest a fascinating article and comments in the Royal Navy analysis website, Naval Outlook.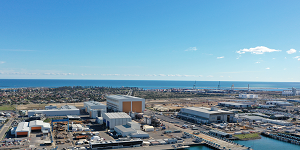 Picture: Defence SA/Australian Naval Infrastructure
Subscribe to our free @AuManufacturing newsletter here.