Achieving net zero carbon emissions by 2050 is a credible target, but if it is to be achieved with local manufactured solar PV cells we need to mobilise the research and manufacturing sector as never before. Here Shane West us of the early history of solar cell production in Australia and the future demand to be met.
Attending an ANU Energy Change Institute discussion in February 2019, Professor Andrew Blakers told the audience that getting to 100 per cent renewable by 2050 for Australia is easy, it just requires 40 solar PV panels per person.
I waited till the end of the presentation to make the point that for a population of 26 million that would be 40 x 26 million equals over 1 billion panels – costing more than $300 billion – and would still need more for firming. We would also need a mix of batteries, hydrogen, solar thermal and pump hydro storage.
It is no easy task it requires serious government planning and implementation similar to the Chinese Governments approach to developing 15-year plans.
A good start- the world's largest solar powered suburb -Sydney Olympics 2000
The picture below shows a typical1 kW PV array at the former Homebush Olympic village comprising BP Solar panels manufactured at Homebush.
A Public Private Partnerships and consortium approach similar to that used by the Sydney Olympic Park Authority (SOPA) for the Olympics could be replicated to regenerate a local renewable industry of scale.
A consortium of Mirvac, Lend Lease, Civil & Civic, ANZ and Westpac built over 1,500 residences and at the time making it the world's largest solar village.
But then came the 2010 Building the Education Revolution (BER) that opened the Pandoras box to cheap imports mainly from China, and after the Sydney Olympics, the shift of solar technology was to Germany and China.
At the time of the Sydney Olympics Australia was the world leader and had production of the world's best solar cells using UNSW 's Martin Green's technology. This is the technology that has continued to evolve outside of Australia.
Here the lack of support and commercialisation of solar was not supported with any preferential sponsorship in Australia unlike China and Germany.
The introduction of the Federal and State Governments roof top solar subsidy scheme soon saw the Australian products languish and the Australian plant at Homebush closed in 2011.
Australia had already repatriated $1 billion dollars' worth of funds to China and Germany. Tragically we imported the technology that was developed here through our government sponsored solar roof top subsidies scheme.
Tomorrow: resurrecting solar production in Australia
Shane West has been a director and consultant with Environmental Sciences Australia Pty Ltd for 30 years. Shane has been a local manufacturer of technology, and published research ranging from the heat treatment of cooling towers to the manufacture and commercialisation of sustainable daylighting and natural ventilation products such as the SkyVent. Shane has a PhD in Sustainable Technologies and Methodologies from UTS.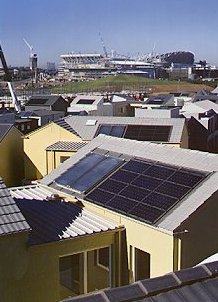 Picture: Shane West/visitsydneyaustralia.com.au
Subscribe to our free @AuManufacturing newsletter here.