To begin the second week of @AuManufacturing's Saving through smarter energy use series, we speak to Nick Katsanevakis of Sussex Taps about where they've looked in their drive to cut electricity use by 10 per cent annually. By Brent Balinski.
This month Sussex Taps announced it had become the first tap maker in the country, and one of the first in the world, to be certified carbon neutral.
Their sustainability drive goes back some time, and the first step was a 2013 energy review, says Nick Katsanevakis, Sustainability Manager at the second-generation, family-owned manufacturer, who describes it as hugely important in drawing up a roadmap.

"We identified the projects where [we] could minimise energy use and then prioritised them in terms of the most cost-effective to the least," he tells @AuManufacturing. 
Post-review, the three main areas tracked were electricity, waste and water usage, with an official goal of cutting each by 10 per cent, 10 per cent (in terms of landfill contribution) and 5 per cent per year. 
Early opportunities to cut electricity use were in energy-efficient lighting (with LED lights rolled out at the company's four sites between 2014 and 2020), a 3 kilowatt evaporative air cooler at the foundry in 2015, and power factor correction equipment in 2017.

The LED lighting received what Katsanevakis describes as "great assistance" under the Victorian Energy Upgrades program, and the switch provided energy savings of between 60 to 80 per cent. Compressed air upgrades to minimise air leaks and regulate pressure at various points also cut energy use.
Sussex invested in two solar array tranches, with 100 kilowatts installed in 2018 and 173 kilowatts last year.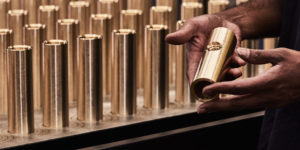 Around 10 per cent of solar PV-generated electricity is sent into the grid, says Katsanevakis, who adds battery storage is being watched but isn't quite economic at this stage.
The foundry also re-melts and reuses most of its brass swarf.
"We have brass rods that go through the CNC machines… And it sort of forms the shape that we require to make the taps," Katsanevakis offers.
"And there's a lot of swarf that comes off that. And that's all recycled, returned back to the foundry where we melt it and make rods again and then it goes back into the plant again to make another set of taps." 
Asked about the payback period for some of the major energy-saving investments, he says that the power factor correction project and LED lighting had a payback period of about "two to two-and-a-half years." The PV is "a bit longer" at five to six years, and important for greenhouse gas emission savings.
According to its most recent sustainability report, Sussex's total energy use has declined from 672.7 megawatt hours in 2017 to 522.9 in 2020, and GHG were reduced from 724.5 tonnes to 701.4 to 445.9 to zero over those four years.
With offsets for 1,702 tonnes of carbon, Sussex has achieved carbon neutrality, certified by Climate Active. Katsanevakis describes CA as highly credible, with federal government recognition.
He adds that they've held off on another energy audit since 2013, but will return to the idea after opening a new plant, expected to begin running at significant volumes within a month. Katsanevakis sees potential to keep cutting energy demands through productivity improvements, focussing on new and specific metrics (such as tonne of metal melted per megawatt hour), and again improving their compressed air use.
For now, he expects the new carbon neutral certification to provide a competitive advantage.
In the premium end of their industry, buyers increasingly care about their own and their suppliers' efforts to reduce their environmental impact.  
"We compete against the European brands, and so we wanted to make sure that the level of taps that we're dealing with are high-end, and we wanted to make sure our certification was at that high-end level," explains Katsanevakis. 
"We wanted to have the green credentials as well, which is one of the strong drivers in terms of our branding as well." 
Pictures: Sussex Taps
Subscribe to our free @AuManufacturing newsletter here.
@AuManufacturing's editorial series – Saving through smarter energy use – is brought to you with the support of SMC Corporation.