The refusal of car makers to share their technical information and its effect on independent repairers has been in the spotlight lately. There are some similarities to a saga from earlier in the decade, and one which has led to the existence of a company calling itself Australia's first and only watch manufacturer.
In 2011, Swiss companies such as Rolex, Cartier and Omega ended the sale of spare parts to Australian independent repairers. These small operators formed the Save The Time coalition, taking the perceived anti-competitive behaviour to the Australian Competition and Consumer Commission, though without success. (Rolex, for its part, said they were motivated by maintaining "quality at the highest level for repairs.")
Watchmaker Nicholas Hacko, then a spokesperson for Save The Time, learned his trade from his father and grandfather before leaving for Australia as a refugee from the Yugoslavian civil war. He asked the company synonymous with prestige timekeeping if he could learn how to repair "the Rolex way." Their letter back was unambiguous, recalls son Joshua Hacko, that "No Australian watchmaker will ever be able to repair a Rolex watch."

Naturally, Hacko the elder was hurt.
"According to Rolex I am dumb and untrainable" he later wrote.
The response? To design, assemble and adjust his own watches as a "screw you guys" to Rolex et al., calling the project "rebelde".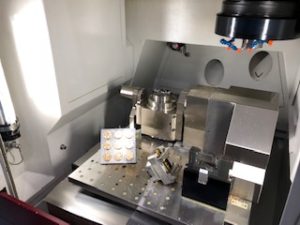 The effort's unexpected success – 650 watches have been sold since 2013 – has led to a further act of boldness. A small team based out of Brookvale has been building up the capability to not just assemble watches, but produce the lion's share of their components.
Among other things, it's been driven by a quest for flexibility in the design of internals, explains Joshua Hacko, Technical Director at Nicholas Hacko Watchmakers. This includes where the two hands can be positioned, how much power is used and more.
This quest has taken in three-and-a-half years of trial and error.
"We thought we could just buy a watchmaking machine; metal goes in one end, watches get spat out from the other end," Joshua Hacko tells @AuManufacturing of the naivety they set out with.      
He says he now appreciates that Switzerland is Switzerland because of its watchmaking ecosystem, rather than a watchmaking machine.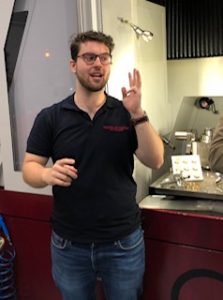 Hacko is mid-way through a mechanical engineering degree at University of Sydney, and describes watchmaking as an uncanny marriage of precision engineering and art, with a strong emphasis on handcrafting.
A brass main plate, for example, takes them 30 minutes or so to CNC mill, followed by maybe three-and-a-half hours of things like deburring, hand finishing, polishing, and jewelling.
Much of the precision machining, where "we're chasing microns," is done at nighttime. Hacko junior points out the locating features for a gear train placed on a vision system's XY measuring table in the workshop. Tolerance in this case is plus or minus two microns, about a 50th the width of a hair.
He mentions the Brookvale workshop's flagship piece of micromachining kit, a five-axis Kern Pyramid Nano milling centre, which they picked up from a Swiss watchmaking company for a song (and as part of an estimated $3 – 4 million invested in plant and equipment since R&D in component manufacture began).
"It's nine tonnes on a suspended floor, and not only that, our unit is directly next to an on-ramp for all the other units," he explains. The floor vibrates whenever a truck passes: a serious issue during daytime production.
This was one of many lessons learned by simply plunging in, which was the only possible way. He mentions that even if he went to Switzerland to study among their elite craftsmen, they'd be unwilling to share know-how accumulated over many, many years.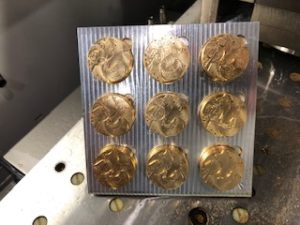 "There's a whole book of watchmaking standards, but they're so vague and so non-specific, that there's no point of even having the book," he explains.
"It's this bizarre world of secrecy."
By Hacko's reckoning, the company has earned a series of Australian firsts in watch manufacture. First watchmaking screw and watchmaking stem (both in 2016). First acquisition of a machine capable of producing a main plate (2017). First main plate manufactured (mid-2018).
In mid-September, R&D on a 60 per cent Australian-made movement was completed. He bases the percentage on the mass and functionality of the 87-part mechanism, and chose the most difficult-to-make components. According to Hacko, the company can now rightfully call itself a bona fide manufacturer of watches*.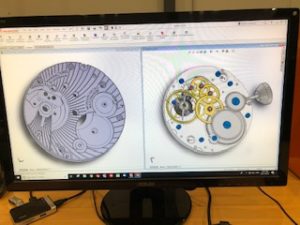 It has set a March 1, 2019 date for release of these timepieces, which will sell for between $4,000 and $6,000, and feature the new movement. All 25 in the limited run series are spoken for.
They have also purchased 1,000 square metres at Mittagong for a purpose-built factory, where on-ramps won't throw precision components out of spec while the team chases its microns.
If successful, Hacko and team would put Australian watch manufacture on the map, and provide a further "screw you" to the prestige brands who indicated they thought Australian independent watch repairers "dumb and untrainable".
Massive volumes aren't being chased, rather the continued transfer of horological wisdom to a new generation. A watch manufacturing academy is being considered. Will this next act of rebellion be a success? Only time will tell.
– Brent Balinski, editor
All images: @AuManufacturing
Subscribe to our free @AuManufacturing newsletter here.
*There are Australian companies assembling watches, including Bausele and Adina. Any discussion on the definitions of and distinctions between watch manufacture and assembly is one for later.