There's pride in dreaming up and making, says Grant Menzies of Adina Watches. Brent Balinski spoke to Menzies about not just being proud of what you do, but telling the story attached to it.
There are a few Australian watch brands, but few can claim the long history – or the ability to assemble in-house – of Adina Watches.
Robert "Bob" Menzies founded the Brisbane company in 1971, confident he could produce something better and more repairable than the stream of Japanese imports at the time. 
His son Grant is General Manager, and joined the business in 1996. He is passionate about the importance of supporting Australian industry, and agrees manufacturers don't make enough effort to communicate their achievements. (This is a topic that @AuManufacturing has editorialised on previously.) 
Menzies's advice is to tell your story, as it doesn't come easy.
In the last two years the company has stepped up efforts to tell its story, now almost a half-century in the making. Videos of its watches atop Mount Lhotse in the Himalayas. Behind-the-scenes looks at the workshop and its equipment. A collaboration with Australian rifle manufacturer Warwick Firearms. And the quirky story about a boilermaker who lost a Country Master Watch in a quench tank for eight months (it still worked after being found and cleaned up a little.)
Like most other Australian companies, they're proud of what they make. They are also happy to celebrate it on social media and elsewhere.
"It's not just a widget that ends up in a shop. It's something that's been crafted by many sets of hands, has been dreamed up, has then gone through [many] processes… You couldn't be prouder once you put it together," Menzies tells us.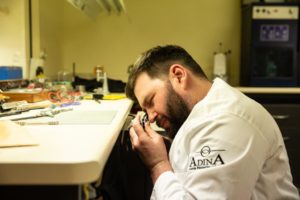 "It's something that, once you start looking at the end product – for us it's watches – with all the steps that have gone into it, it becomes an element of appreciation. "
Adina employs 12 watchmakers and three apprentices at a company of 19. Its products are sold through 300 stores around the country, and roughly 40,000 watches are sold a year. 
The last "three or four years" have seen Adina answering to requests for bespoke manufacture. This year it has created a set of 90th anniversary watches for St Aidan's school in Corinda, custom timepieces for a Bond University graduation, and one-of-a-kind watches for players and managers at the 2019 Polocrosse World Cup (which was also the first event the company sponsored.)
The collaboration with Warwick Firearms came about after CEO Scott Warwick saw a yarn on Adina in an in-flight magazine and got in touch.
"Why is it with me and Adina that there is always a story!? This one is no exception and I can tell you, it is way out there!" writes Menzies in a company Facebook post. (Read the post here.)
One story led to another: a reminder of their importance. 
The product with Warwick was launched at the Sporting Shooters' Association of Australia SHOT expo in October. 
"When he gave me a ring, [Scott Warwick] said 'Look, we make these high-end firearms. We would like to accessorise our firearms with one of your watches, but we would like it to be mil-spec,'" recalls Menzies, who says it also meant for the first time finishing cases with cerakote, a type of ceramic.
"It is highly corrosive-resistant as well as chip-resistant. He uses it on the rifles to not only give them a very military look, but also to make them very, very hard-wearing."
The aim of talking about the project – and all the others posted on social media – isn't to sell, says Menzies. He adds that each channel has a different role. Facebook is important for dealing with both retailers and end users, while LinkedIn is good for talking about manufacturing and business-to-business topics.
"And then, you've got the 'sexy' side of it, in strong inverted commas [Laughs.] That's all the nice imagery that we put around through Pinterest and Instagram, and to combine all those different platforms along with our blog… We're pretty active across a slew of things, and I always encourage other manufacturers in Australia to embrace social media," says Menzies, who adds that he didn't like the idea of posting about work to begin with.
"But I said to my wife a few years ago 'I've not only got to learn about social media, I've got to learn to love it and embrace it.' And I've done that, and I've seen the benefits in the storytelling aspect of our business. And the new people that are finding us through our socials are becoming interested not only in watches but in our brand in general."
Subscribe to our free @AuManufacturing newsletter here.