Advanced Composite Structures has delivered a composite hydro-electric turbine blade (pictured above, and below) to renewables and hydro power developer, Kinetic NRG.
ACS Australia designed and manufactured the cost-effective and light-weight solution, replacing a proposed metallic turbine blade design which could not be manufactured to meet the required dimensional accuracy.
The Port Melbourne company developed a method to manufacture the complex turbine assembly, along with a light-weight structural design that could be integrated into the hydro power system.
According to general manager Paul Falzon: "Low-cost composite tooling was designed and fabricated to achieve the desired shape and a series of sub-components were manufactured.
"Using a specially designed assembly fixture, the sub-components were laminated together producing a single-piece, dimensionally-accurate, complex blade assembly with integrated internal hub for the central drive shaft."
Finishing of the part included a marine top-coat and rotational balancing of the turbine blade.
Kinetic NRG director Darren Wren said his company conducted an international search to find an organisation aligned with its vision and technical aspirations.
Wren said: "We are delighted not just with the product, but also the cooperative relationships that have developed.
"As our disruptive hydro kinetic energy generating technology enters the market our future success is through developing key partnerships with great people."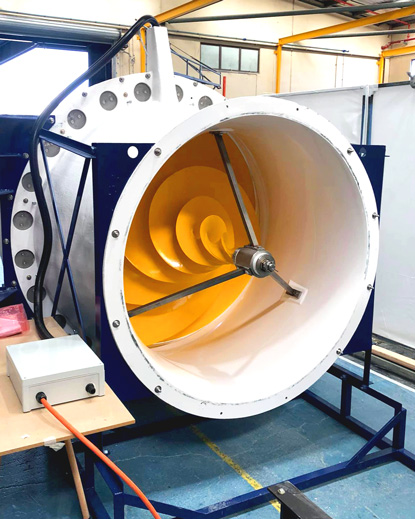 Pictures: Advanced Composite Structures/Adrien Chiem
Subscribe to our free @AuManufacturing newsletter here.