With airlines cutting international flights to the bare bones on federal government orders, air freight costs have skyrocketed.
Now these twin events have combined to slow the import and export of essential manufactures to a trickle.
Manufacturers exporting to the United States are restricted to one flight a day from Melbourne to the United States, for example, and freight forwarders have jacked up their prices.

CEO of Asian Pacific Colorants David Timms said: "We have recently been advised that air freight availability ranges between four to eight weeks and the freight cost increases on a daily basis according to demand.
"At present, air freight charges have increased up 10 times, with no guaranteed ship date."
The maker of food colourings is not alone among exporters, but there are also Australian manufactures which are vitally needed in the United States which are struggling to get through.

Melbourne wheel and castor manufacturer Fallshaw Group is a major exporter of specialised hospital bed castors (pictured) and has been ramping up production at its Melbourne factory to meet demand.
The company has employed an extra six people, moved to two shifts and is duplicating tooling to boost production of castors for its customer in the US which is tasked with making 100,000 beds in the next five weeks.
Fallshaw Group managing director Jo Fallshaw (below) has written to trade minister Simon Birmingham saying her company is air freighting 2,000 castors a day to the US at a cost of $39,500 a day for the air freight.
Fallshaw is calling for the government to allow more flights every day and to rein in price gouging by freight forwarders.
She said: "We cannot do this to our allies.
"The USA needs us to step up and supply castors without allowing the freight companies to price gouge and the airlines to sit idle, even while (they are) begging for bailouts.
"The government has allowed airfreight to almost totally shutdown and companies to cap outbound exports to 300kg for the vast majority of customers, and then charge five times more than last month for airfreight right when it is so critically needed."
Fallshaw Group also makes powered mobility equipment including its Electrodrive trolleys for moving hospital beds.
Fallshaw said the US was facing a peak in the next five weeks and if she couldn't meet orders in that time frame 'you can forget it, people will die.
"The tables will turn when Australia needs its' shipments of hospital beds from the USA, when our peak demand hits in June 2020.
"(The government has acted) on seafood exports and they are important, but people dying on the floor and that is more important."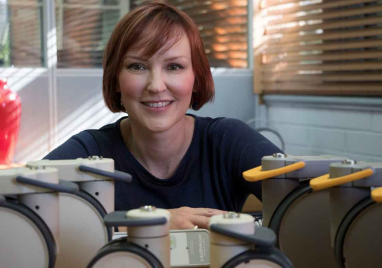 Pictures: Fallshaw Group
Subscribe to our free @AuManufacturing newsletter here.