Prime Minister Anthony Albanese has announced a final settlement with France's Naval Group which cuts $2 billion from the expected cost of Australia's decision to scrap the purchase of Attack class submarines from France.
Albanese today announced Australia will pay Naval Group an $830 million settlement of the cancelled a $90-billion contract, bringing the estimated total cost of axing to $3.4 billion.
Albanese told a Sydney press conference: "It brings the total cost of the former government's failed policy to $3.4 billion.
"This is a saving from the $5.5 billion that Senate estimates was told would result from that programme.

"But it still represents an extraordinary waste from a government that was always big on announcements, but not good on delivery, and from a government that will be remembered as the most wasteful government in Australia's history since federation."
Albanese texted French President Emmanuel Macron to finalise the deal, with Albanese now planning to visit France to repair relations between the two countries strained over the abrupt cancellation.
Naval Group said in a statement that it had reached 'a fair and equitable settlement to bring a conclusion to the Future Submarine Program' with the Commonwealth of Australia.
"Naval Group has worked closely with and assisted its partners and subcontractors in Australia and France.
"Naval Group pays tribute to all individuals, teams, and its partners who have worked and delivered on this program for more than five years. Naval Group also recognises the important work of those who contributed to the discussions leading to this agreement."
In fact the $3.4 billion is not the total amount spent on the Attack class submarine.
Apart from the time expended by Australian politicians and bureaucrats, work had begun on a new submarine construction yard (construction pictured, below) at the Osborne naval shipyard in Adelaide, close to yards run by ASC, which built the Collins class submarines, a common user area, and BAE Systems Australia, which is building nine Hunter class frigates.
Then there is the opportunity cost of delays in replacing the Collins vessels, which will now undergo a rebuild when they reach 30 years of age to keep them fit for service into the 2040s.
Canberra announced in 2021 that $6 billion would be invested in a life-of-type extension (LOTE) for all six of the Royal Australian Navy's Collins submarines, a figure since increased with additional upgrades planned to optronics and other systems.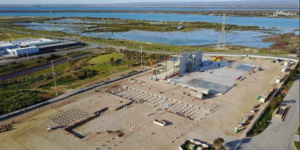 Picture: Naval Group signs the original partnership agreement with the Commonwealth
Subscribe to our free @AuManufacturing newsletter here.