The scale and ambition of Boeing Defence's unmanned aircraft production precinct at Toowomba Wellcamp Airport has been revealed in a new video from the airport itself.
Already the location of an industrial park and export hub including direct flights to Asia, the city, two hours west of Brisbane by car, will develop a new manufacturing, research and innovation precinct adjacent to the runway to be the home of Boeing and its Loyal Wingman jet aircraft.
Conceived as the gateway to Australian aerospace and defence industry, the precinct features aerospace manufacturing, assembly, maintenance and refurbishment (top of main mage), and innovation and research facilities (below)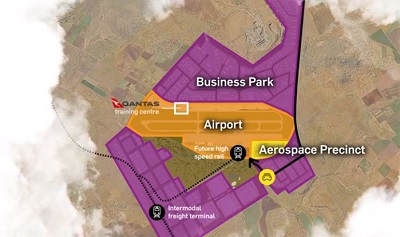 Boeing would operate from two large and four smaller structures featuring advanced manufacturing, precision machining, composite fabrication and prototyping labs.
It would also draw on composites and aerospace systems manufacturing at Fishermens Bend in Melbourne – the former home of the Government Aircraft Factories.
Images: Toowoomba Wellcamp Airport/Boeing

Subscribe to our free @AuManufacturing newsletter here.