Ampcontrol has been awarded twice for 'Excellence in Product Design' and 'Collaboration Partnership' at the 2021 Hunter Manufacturing Awards.
The Boundary Power Solar Cube (main picture), a rapidly deployable Stand-Alone Power System (SAPS) received the accolade for Excellence in Product Design.
And Ampcontrol's collaboration with Steber International and The University of Newcastle to develop a hybrid diesel-electric boat (pictured below) was recognised in the 'Collaboration Partnership' category.

Ampcontrol CEO and Boundary Power director Rod Henderson said: "It is fantastic to see a renewed focus on local manufacturing and a carbon reduced future."
Boundary Power, a joint venture collaboration between Ampcontrol and Horizon Power, manufactures the Solar Cube, a self-sufficient power generation unit that incorporates solar photovoltaic panels, inverters, battery storage technology and a back-up generator.
A result of thoughtful engineering and manufacturing, the Solar Cube 90 minute rapid deployment methodology represents one of its most innovative features.
A collaborative partnership between Ampcontrol, The University of Newcastle and Steber International
is seen as an example of the immense benefits of industry, government and education uniting.
In 2018 Steber approached Ampcontrol in 2018 requesting assistance to develop a prototype hybrid police boat.
Ampcontrol's technology and engineering expertise were applied to the project to leverage the silence of the electric power system, enabling a whisper-quiet mode for operations requiring some stealth.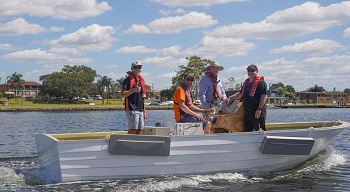 Pictures: Ampcontrol
Subscribe to our free @AuManufacturing newsletter here.