Submarine builder ASC has welcomed more former submarine workers into its ranks as part of national efforts to redeploy those displaced when the federal government abandoned its plan for French company Naval Group to construct Attack class submarines in Adelaide.
ASC, which built and maintains the Collins class submarines, has employed another 120 Attack class workers at the Osborne shipyard in Adelaide (main picture) from Naval Group Australia and Lockheed Martin Australia, bringing the total re-deployed to ASC to 230.
The workers are being redeployed via the Sovereign Shipbuilding Talent Pool (SSTP) established by the federal government in September 2021 to place workers on the Attack Class submarine programme into current and new naval shipbuilding programmes, and other Australian defence projects.
New starters at ASC receive a week-long induction as part of the SSTP transition process, where they are briefed on the work underway and ASC's company values, so that they can hit the ground running.

The SSTP aims to retain and enhance the unique skills and know-how of submarine specialists, and ensure they are 'work ready' for the anticipated nuclear-powered submarine programme.
ASC has released a number of profiles of those employed including one identified only as Anna (pictured below).
She spent nearly two years as an electrical engineer on the Attack Class with Naval Group and is now putting her experience to work at ASC.
Anna said: "The transition process has been well-planned and very smooth.
"It's rewarding to be able to use the skills I've developed on previous projects, while also learning new things and gaining new experiences."
Anna values being part of something that is so important for Australia, and said her role provides a strong sense of purpose.
"The scope of work that we have at ASC is massive. It's challenging and meaningful work."
At ASC staff will work on current programs, including the Collins Class Sustainment and the Life of Type Extension, and participate in learning and development opportunities.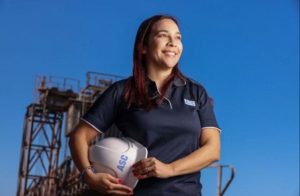 Picture: ASC/Osborne South
Subscribe to our free @AuManufacturing newsletter here.