Australian vanadium redox flow battery (VRFB) developer Thorion Energy has selected Vietnam as the manufacturing site for its batteries.
The company and Viettel Manufacturing Corporation inked a co-operation agreement (main picture) to manufacture its vanadium batteries in Vietnam for local market as well as for exporting to the global markets.
Thorion's battery (pictured, below) uses chloride-based electrolyte technology giving it a claimed up to 70 percent higher energy density than the Sulphuric Acid based electrolytes used in other VRFBs.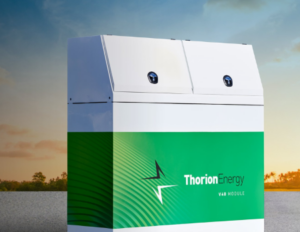 Its business model envisages the design, manufacture, installation, commissioning and maintenance of modular, integrated renewable power generation by solar and wind as well as energy storage systems.
Thorion Energy first came to Vietnam under Austrade's Energy Trade Mission to Vietnam in March 2023 and found that Vietnam presents great opportunities for their battery business under its energy transition progress and the net zero commitment pathway.
Thorion Founder, Chairman and CEO Bradley Appleyard said: "I am delighted to execute this MoU with the Viettel Manufacturing Corporation as we pursue our business model of local content development, identifying the most capable partners in all target markets.

"This relationship with VMC bodes extremely well for the rollout of Thorion products in Vietnam."
Pictures: Thorion Energy/Bradley Appleyard, Chairman and CEO of Thorion Energy (left), and Nghia Nguyen, CEO of VMC/Thorion Energy V40 VRFB module