International shipbuilder Austal (ASX: ASB) is building and delivering ships on a global scale with two passing customer milestones in the past few days.
The Perth-based company delivered its fifth Guardian Class patrol boat built in Perth in less than a year to the Solomon Islands government, a gift from the Australian Government.
The 39.5 metre steel-hulled vessel, RSIPV Gizo (pictured) will provide border patrols, regional policing and search and rescue operations.
Meanwhile in the United States the future USS Kansas City (LCS 22) (below) successfully completed its acceptance trials in the Gulf of Mexico, the last milestone before official delivery of the ship.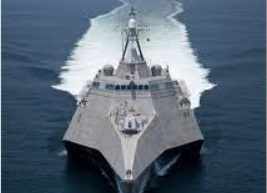 The Kansas City is the eleventh of the aluminium-hulled, frigate sized ships built at Austal yards in Mobile, Alabama.
Five of the ships, each costing up to US$700 million, are under construction at Mobile with the future USS Oakland recently launched.
Modules for the future USS Canberra, named in a rare honour in recognition of the Australian capital, are also under construction.
Austal CEO David Singleton said "(The deliveries) highlight Austal's clear strength in designing and constructing multiple naval vessels on time and on budget.
"We are very proud of the fact."
The 21 Pacific Patrol Boats being built in Perth for 12 Pacific nations have a contract value of $335 million.
Austal now employs 1,100 in Australia, builds navy ships in the US, and constructs large high-speed aluminium ferries in the Philippines and Vietnam.
Picture: Austal/RSIPV Gizo
Subscribe to our free @AuManufacturing newsletter here.