This week marked a major milestone for Australian Plant Proteins' recently commissioned state-of-the-art fractionation facility in Horsham, Victoria.
Director of Australian Plant proteins and EAT Group, Brendan McKeegan took to social media to celebrate the first production of faba bean protein isolate (pictured).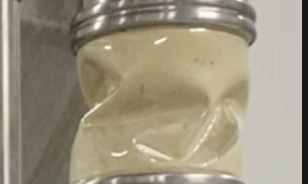 McKeegan said: "For the first time Australia has a large-scale commercial plant-protein processing facility which enables us to enter the global supply chain for one of the most sought after next generation food ingredients."
He said the advantages delivered by the new plant were significant:
our farmers have a new, value added route to market for pulse crops
we get to showcase our propriety Australian designed and developed technology to the world through a great tasting plant protein that is good for consumers and the planet
and we provide our food manufacturers with a locally produced plant protein ideally suited for a range of food and beverages, giving them the ability to create exciting new 100 per cent Australian made products and reduce dependency on imports.
"This is just the beginning. We now have the platform to create many more plant-based products as we enter a new phase in protein consumption."
Keegan is a serial agribusiness entrepreneur with his EAT Group a portfolio of companies including King Island Beef and Australian Plant Proteins. Its Camperdown Powder premium infant formula manufacturing business was sold to Bellamy's Organic.
He said: "I believe creating sustainable agribusinesses is about focusing on unique high-margin products with efficient supply chains that can exist outside of the commodity cycle and leverage Australia's competitive advantage as a supplier of premium produce.
"Australia is in an enviable position of being able to service the emerging global demand for premium food. Now is the time to invest in agribusinesses that can deliver on this opportunity."
Picture: Australian Plant Proteins and EAT Group
Subscribe to our free @AuManufacturing newsletter here.