Helping launch our second Celebrating Australian Made editorial series, today we get another look into Australia's biggest manufacturing project underway at the Osborne naval shipyard in Adelaide. Here we show the latest video of prototype production underway for the Hunter class frigate build.
There is no bigger manufacturing project underway in Australia than BAE Systems Australia's construction of nine Hunter class frigates at the Osborne naval shipyard in Adelaide at a cost of $35 billion.
The company has taken over the all-new digital shipyard and @AuManufacturing has previously released a video where two giant ship units were shown being consolidated in the ship block consolidation hall at Osborne.

Today we reveal a second video (here) of another two units being brought together, the third prototype unit which weighs 39 tonnes was lifted and lowered onto the fourth prototype unit. The four units together make a full ship block.
Under construction is a relatively simple ship accommodation block allowing BAE Systems to test its manufacturing processes and train staff on site, with the complexity of the blocks increasing as prototyping progresses.
The process was aided by cameras, lasers, and guide-plates which offered a view into how advanced manufacturing techniques are being put into practice at Osborne.

The units will now be consolidated by teams of welders and boiler-makers.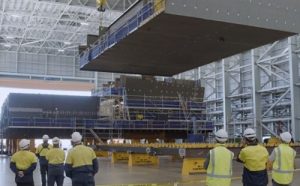 View video here.
Media: BAE Systems
@AuManufacturing's editorial series – Celebrating Australian Made – is brought to you with the support of the Australian Made Campaign Ltd, licensor of the Australian Made logo. For more information about using the logo, visit this link.
Subscribe to our free @AuManufacturing newsletter here.