Melbourne pharmaceutical manufacturer Baxter Laboratories has celebrated 25 years as a manufacturer of skin care products, sunscreens and topical pharmaceutical.
Staff paused to celebrate 25 years of service at the plant yesterday (below).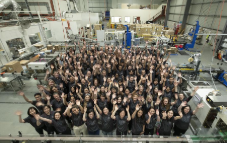 The company offers a complete service to third parties from research and development to regulatory services, manufacturing, filling , warehousing and global distribution.
Customers include Reckitt Benckiser for Savlon antiseptic cream and Vitality Brands for its Cancer Council sunscreens.
Baxter Laboratories is a TGA licensed manufacturer based in Boronia, Melbourne.

Founded in 1994, the company exports a large range of products to Asian customers through its offices in Hong Kog.
Picture: Baxter Laboratories
Subscribe to our free @AuManufacturing newsletter here.