ADVERTISING FEATURE
By Tijana Trifunovich
Lynden Vikingur is a third generation boat builder. Stemming from a family of Icelandic shipwrights, his father, Gunnar, carried the boat building lineage into Australia when he arrived on it's shores at the age of 16. After working as a boat builder in Western Australia for several years, Gunnar Vikingur founded what is now VIKAL International, a bespoke superyacht tender powerhouse catering to the world's most affluent and wealthy.
From the start, future-focused operations were present in VIKAL's DNA, pushing technical boundaries at every opportunity. The penchant for maverick manufacturing even carries through the firm's name; with VIKAL originating from a merging of the Vikingur surname and aluminum; the new age marine material of choice when Gunnar created the business in 1982.
As it happened, the rapid uptake of fiberglass in the marine sector occurred at around the same time. A ripple of excitement spread across the industry, with pattern makers eagerly embracing the new medium, anticipating greatness from the mould making potential associated with fiberglass fabrication.

VIKAL's rare breed of pattern makers were among those who would learn to harness fibreglass' properties and craft something special.
Over many years, it became more and more challenging to hire and retain traditional pattern makers who could live up to VIKAL's standards. When the firm's last remaining expert announced his impending retirement, Lynden and Gunnar faced an unusual challenge. Their soon-to-be ex-employee had been responsible for most of their plug and mould manufacture for years and was integral to the construction process. They now needed to find a worthy replacement.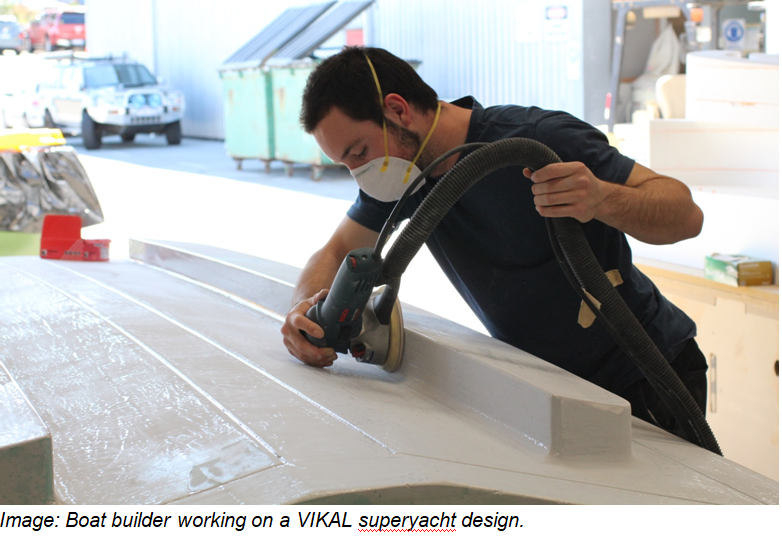 Subsequent years saw the business contracting jobs to various machine shops across Australia. It was a trying time; leaving them in search of quality, consistency, and ultimately; their own machining center.
"We were forced into the machining world after losing our last patternmaker and then losing faith in a string of contractors," Lynden reflected.
After joining his father in the company, Lynden had kept an eye out for potential technological aids. With his father's support, a small multi-axis CNC was secured from a local tooling shop, providing some modest value – though not enough to stop him from enquiring about a more sophisticated and serious large-scale machining asset.
In the middle of courting CNC manufacturers across the globe, VIKAL landed an urgent, high-profile job that propelled them from casual enquiry to serious CNC prospecting. Lynden and Gunner soon found themselves hitting a wall at every turn. Most suppliers had long lead times for large scale machining centers – but for one.
By a stroke of luck, VIKAL's preferred machine manufacturer, CMS, had just had a cancelled order waiting in a European port. The manufacturer called their Australian distributor, Innovync; and six weeks later, a brand new 5 axis MX5 was up and running in VIKAL's factory without a glitch.
"Working with a company like Vikal is every supplier's dream. The process from order, to installation, to final commissioning was seamless. As Vikal custom manufactures all aspects of the boat inside their impressive facility, they had everything on hand to assist with the installation. Whether it was an electrician, plumber or stainless steel welder, everything was available instantly. They look after their machine with impeccable diligence and our regular PM service is just to make sure everything is in order," recounts Innovync's Managing Director Pierre Sullivan.
The substantial capital investment appears to have paid itself off within a few short years. Fitted with precision parts engineered for milling, shaping, drilling, and mould-making, the CNC was the perfect answer to VIKAL's operational platform and pattern making headaches.
"The MX5 is perhaps the single best piece of machining equipment that the business has ever acquired. It doesn't take sick days, doesn't break down, it just works", remarked Lynden.
In stark contrast to the dying trade of timber pattern making, VIKAL's unique superyacht tender shapes are all created with this high-tech tool. The process starts by carving single-use moulds out of low density polystyrene, which is then sealed with a proprietary process in preparation for GRP layup. With the technology plugged in, Lynden notes that the whole process is significantly more efficient and cost-effective than the traditional handcrafted system.
"We can safely say that our all-in total cost for mould and plug production is now close to halved."
At over 3000 hours of use under its belt, VIKAL'S MX5 is constantly running. Having been acquired in 2016, the firm began contracting it's precise high-quality fabrication capacity just two years later. When it's not working on an internal project, the MX5 is shaping female moulds for other boat-building customers, formwork for the construction industry, or creating custom patterns for a host of local sectors. Even with all the activity, the equipment isn't yet running at it's full potential. The family-run business is looking to maximise the machine's productivity even further. It has been responsible for flawlessly churned out polystyrene and timber patterns and moulds over it's 4-year history, and has plenty more mileage in it's mechanical parts.
"We had Innovync's specialist Italian technician fly over from Sydney to do a 2000 hour maintenance test. He stayed for a day or two, checked the machine; said everything was fine, and proceeded to the next customer."
Supported by the Australian distributor's excellent after-sales service, VIKAL's premium CNC has been their biggest means for making a splash through innovative, Bond-esque water vehicles. At about a 2-year turnaround time, the venture's well-off customers are free to flaunt their bespoke beauties, appreciating the behind-the-scenes action as they wait.
The business' design and manufacturing team have brought about big leaps in Australia's marine manufacturing as exporters and world leaders in a field crowded by international competition. The imaginative designs are commissioned , then digitally created in CAD, and finally, realised to perfection, via a melding of traditional hand-crafted techniques and high-tech CNC mechatronics.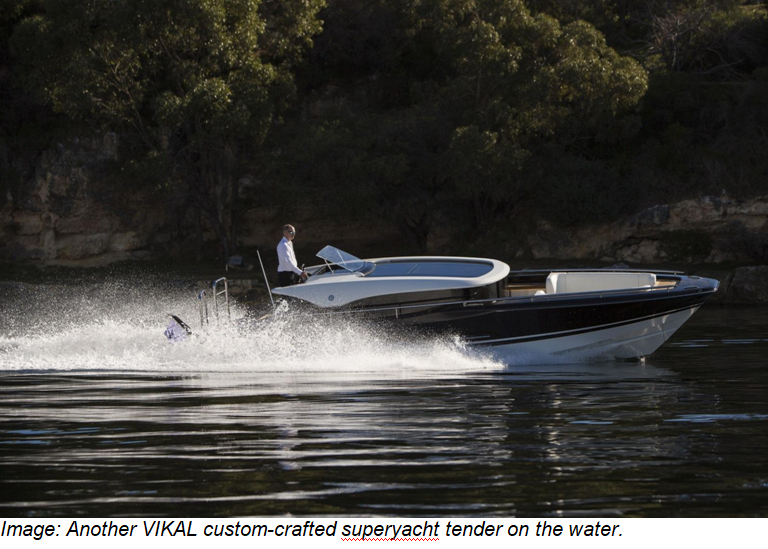 Were it not for the pattern maker's exit, along with the fateful order cancellation of the MX5, VIKAL may never have experienced the excellence of future-focused machining. The road ahead is never guaranteed; but if the past is anything to go by, VIKAL's guiding stars will continue to light a bright path through uncharted waters, with Innovync by their side.
"I look forward to many more years of business with Gunner, Lynden and Vikal", Pierre says.
One thing is for sure; the premium machinery in VIKAL's care will continue to count some of the world's most innovative marine vehicles, one bespoke superyacht tender at a time.
Main picture: VIKAL's impressive Limousine superyacht tender out on the water.
Subscribe to our free @AuManufacturing newsletter here.