By Brent Balinski
Before the current wave of lockdowns around the nation, there were positive stories to be told about local tourism.
With international travel off the menu for some time, we saw reports of increased bookings for road trips, interstate camping and other adventures. Caravan makers, according to their industry body, were on track for a record-breaking year.
For bike rack business Shingleback Off Road, the nation's rediscovery of its great outdoors contributed to a robust expansion in sales over the Covid-19 era, says Kimberley Taylor, the company's Business Manager.
Sales through bike shops took off first, she says.
"We were already becoming noticed. The awareness was really growing," Taylor tells @AuManufacturing. 
"And then all of a sudden it just boomed. And then we heard about the caravan market, and with people having to travel domestically, you need a rack." 
The Beechworth-based company began in 2015, with a long-range fuel tank designed by Kimberley's husband Andrew, a boilermaker. 
Then, out on a welding job one day, he got into a conversation with a keen mountain biker. The fellow had a gripe: there was no maker of a vertical rack that could accommodate five bikes without having to disassemble them. "Could you make me one?" he asked Taylor.
"Then they worked together, so the customer helped us with the testing," Kimberley recalls. 
"Andrew would go and design it, build the prototype, and then we'd go off and test it with a different range of mountain bikes to see how it all worked.
Shingleback also makes a six-bike model able to fit the legal width of cars, which they say is the first of its kind to the market.
Rack sales began in 2016 and demand outstripped Andrew's ability to keep up. They now use an engineering firm for contract production and assembly, packaging and freight. The company has distribution through an expanding list of shops, though most sales are direct to customers.
Kimberley says outsourcing production nearby allowed them to keep up with unexpectedly high demand, as well as keep local jobs during a difficult time.
"That workshop didn't put anybody off due to Covid. They are running two shifts… Our sticker suppliers, our bolt suppliers, everyone locally: when we grew, they grew," she says.
"For us that [has been] amazing. "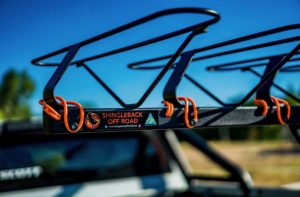 Today Shingleback still sells the original fuel tanks, racks with four different carrying capacities, and accessories, such as swing arms and a trolley that turns racks into an indoor storage solution.
They have added five employees — as well as other jobs throughout their suppliers — and use about half-a-dozen consultants.
Their progress earned a win in the innovation category as well as the Most Outstanding Business (chosen among all category winners) at the Albury-Wodonga Business Awards last month.
Planned international expansion is on this year's strategic plan, and a new product will be announced shortly, says Taylor.
The company's growth has also boosted the founders' appreciation for the value of sourcing locally.
Estimates of manufacturing's job multiplier effect vary, but the federal government assumes one manufacturing job supports 3.6 indirect jobs.
"We didn't think we were really contributing for a while, that it's just me and Andrew, but then you add up all of those families at [the contract manufacturer's] workshop and what the increase of Australian people buying Australian bike racks has done for us locally and for all those suppliers that work with us," explains Taylor, before describing the spread of their network.
Light boards from Sydney. Laser cut components from Brisbane. Stickers from Wangaratta. Bolts from Albury.
"Everything is as local as it can be… we scaled up properly, but we didn't run out of stock," she recalls. 
"Our longest wait over Christmas was about four weeks. When you compare that to the rest of the businesses in the pandemic, that has been mind-blowing. And that comes back to the Australian-made thing."
Pictures: shinglebackoffroad.com.au
Subscribe to our free @AuManufacturing newsletter here.