Our Celebrating Australian Made series turns today to leadership and the difference that a strong belief in the value of Australian manufacturing can make to a business. Here Peter Roberts profiles Austin Engineering and its CEO, David Singleton. 
Mechanical engineer David Singleton had already amassed a stellar career in manufacturing when he first became involved in Perth mining equipment manufacturer Austin Engineering and took over as CEO in 2021.
Singleton became involved as its operations in Australia and South America were facing difficulties and the Covid-19 pandemic took hold, replacing Jim Walker who as CEO had himself resolved well recognised balance sheet issues and recommenced paying dividends.
Singleton previously headed up shipbuilder Austal, Poseidon Nickel and engineering services contractor Clough, those roles following international ones at BAE Systems in London and Alenia Marconi Systems.

His first job was to lead a strategic review of the manufacturer of mine dump trucks, buckets and other equipment which had operations here, in Indonesia and the Americas, but was generally seen as under-performing.
The fruits of his leadership were apparent yesterday when Austin revealed a reinvigorated sales pipeline and a May order book $50 million ahead of last year, driven by increasing competitiveness and product innovation and a fourfold increase in mining bucket sales.
The company expects its FY22 result to see a 2.4 times increase in operating EBITDA to $30 million, and a 5.5 times increase in NPAT to more than $18 million.
Singleton told investors: "It has been a rebuilding year for Austin and we are very pleased to have made highly significant and lasting gains across the business both financially and structurally.
"We have had a strong second half and the order flow sets up a good base and outlook for full year 2023."
Driving the renewal of the business against headwinds of Covid-19 and supply chain disruption has been the Austin 2.0 strategy Singleton devised.
"Consequently, the business has remained resilient amid Covid-19 major impacts and inflammatory pressures and we have the structure to manage these unprecedented changes effectively.
"Our large and diverse supply base enables us to be confident in our ability to ensure reliable and cost effective deliveries to our customers around the globe."
The early stages of the plan saw a focus on overhead cost reduction which was followed by the introduction of advanced manufacturing and automation through an investment of $6.5 million into its Kewdale, Perth factory and similar developments at its site in Batam, Indonesia.
Robotic welders weld major steel components which now move through the re-laid out factories in a flow process not unlike vehicle assembly.
Product redesign now sees every element of a truck body built in one day, with final assembly taking four days.
Finally, moving Kewdale to a four day week immediately allows for an additional day's work to be done, boosting output potential on busy times by 25 percent.
Improved competitiveness allowed Austin to bid more competitively and hence win more work. And the increased flexibility of the Batam facility helped business resilience, with the Indonesian site stepping up when the Perth operation was experiencing Covid lockdowns and staff shortages.
Later stages of the revamp focusing on innovation have seen the release of customer-focused new products, including an upgraded Ultima truck tray designed for Australia's east coast markets and the new JEC High Performance – and higher margin – mine bucket range.
An example of Austin's increased competitiveness is seen in the company's ability to manage unprecedented rises in steel input costs of around 70 percent the the past 13 months.
"The nature of Austin's business with fast product turnaround times and well-structured steel procurement practices has meant that the business has been largely unaffected by these cost burdens.
"…The implementation of manufacturing process improvement is at an early stage and so will continue, through FY23, to unlock further cost and capacity benefits, which will prove to be highly material to competitiveness."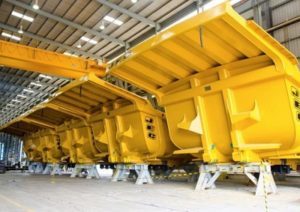 Pictures: Austin Engineering
@AuManufacturing's editorial series – Celebrating Australian Made – is brought to you with the support of the Australian

Made Campaign Ltd, licensor of the Australian Made logo. For more information about using the logo, visit this link.