In the third day of our sponsored editorial series Celebrating Australian Made, coinciding with Australian Made Week, we look at a company making use of an iconically Australian plant. Brent Balinski speaks to Kerry de Pagter from Lemon Myrtle Fragrances.
Not every family wants or is able to operate a business together. But for the de Pagters, it's an ideal arrangement.
Husband and wife Kerry and Peter have owned Lemon Myrtle Fragrances, based at Baulkham Hills in Sydney's northwest, since 2018.

"My husband and daughter go to the warehouse; Pete's there every day. [Daughter] Cassi is there a few days a week," Kerry tells @AuManufacturing.   
"Up until just recently, she was almost there every day as well." 
About two months ago they hired their first non-family employee. He works in the warehouse a couple of days a week so Cassi can focus on sales.

"Australian Made is important to us. But the other thing that's very important to us is family business," says de Pagter. 
"Our contract manufacturers are also family businesses. So we're conscious of the fact that we're working with, as much as possible, other family businesses so that we're supporting grassroots Australia, I suppose."
Lemon Myrtle Fragrances was established in 1990 by Roger and Eileen Bird, at the beginning of a decade where interest in the plant boomed and plantations sprung up en masse. It then changed hands to Michael and Maria Pickles in 2014.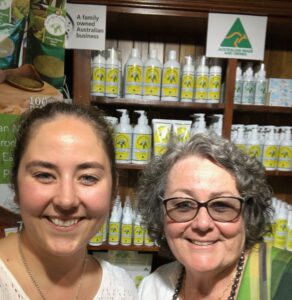 The same year, de Pagter quit a nearly-three-decade career at Australia Post, finishing up as national category manager for gifting.
After four years of consulting work and caring, de Pagter heard that the Pickles were looking to sell. She was a long-time user of LMF's soaps and insect repellents, and excited by the idea of owning the company.
De Pagter remains fascinated by the many uses of the native plant, which was introduced to the world through the Sydney Olympics and saw a jump in popularity afterwards as an ingredient and a nutraceutical. 
Recent figures are hard to find, but one fact sheet from the Rural Industries Research and Development Corporation covering 2007 to 2012 states almost 90 per cent of what was grown was dried and exported for use in tea.
Of course, the plant's popularity goes further back than that, and has been used by Indigenous Australians for tens of thousands of years for its flavour and medicinal properties.  
Its lemony fragrance is from the high levels of the compound citral – also found in lemongrass, lemons, and limes – which has antibacterial and antifungal properties.
At LMF it is used in four broad categories: the 100% Pure range (essential oil, tea and spices), personal care, home care and pet care.
Of the wide array of products, de Pagter says soap is the number one seller by units and dollars, followed by moisturisers and repellents, with toothpaste and air freshener also strong sellers.
While the company's website is good-looking and online sales are important, De Pagter says the focus is currently on trying to grow the wholesale side of the business.
"If we sell online, then okay: tick. We've made our profit. But if we can supply a retailer, then that retailer can employ people. And then those people have got money in that community," she explains.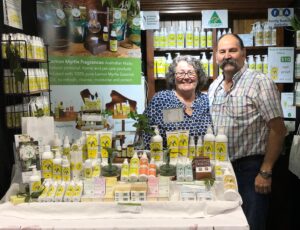 "And always, if somebody rings up and says, 'Oh, I want to buy X,' my daughter – who takes all of those calls – she'll look for the stockists and say, 'There's a stockist here. Where are you? I can tell you where there's a stockist.' And she'll kind of say to them, 'If you find that they can't give you what you need, then we're happy to take an order.'" 
De Pagter says the company is currently looking at opportunities in gifting and new products such as bath salts, and would be happy to grow exports if the chance presented itself.
But it seems she's mostly just chuffed to be running a business with her husband and her daughter. And her son Ben, when he comes up from Melbourne.
"For people to be living under the same roof and… working together, and it all just kind of falls into place," she says. 
"If Covid taught anybody anything, it was how important your family is. And to be able to live together and work together is just really wonderful."
Pictures: supplied
Celebrating Australian Made is an editorial series by @AuManufacturing, created in cooperation with the Australian Made Campaign Limited for Australian Made Week.