Advanced Composite Structures Australia has developed a number of large-scale animatronic components for one of the world's leading creators of attractions for large theme parks.
The Melbourne company used a resin infusion technique to develop the components for Creature Technology Co., another Melbourne firm that builds life-like animatronics for arena spectaculars, theme parks, exhibitions, stage shows and events around the world.
Creature Technology built the animatronics for the stage show King Kong: Alive on Broadway, and the arena shows Walking with Dinosaurs and How to Train Your Dragon produced by Global Creatures.
Details of the latest new creatures are still confidential, but there are clues in the shape of the image below taken from a corporate video.

The components were built to extremely high standards, minimising mass to allow dynamic movement of the structure.
The general manager of Advanced Composite Structures Paul Falzon told @AuManufacturing: "Developing successful products which take advantage of the unique and beneficial properties that carbon fibre composite materials provide is what we do for our customers.
"The Creature Technology project was a great example of the suite of services we offer."
ACS developed concepts for design, materials, manufacture and assembly and then refined the concept based on kinematic loads and accelerations data supplied by the customer.
"ACS-A's extensive experience with out-of-autoclave vacuum assisted resin infusion led to high quality parts being manufactured with a very high final assembled geometric tolerance."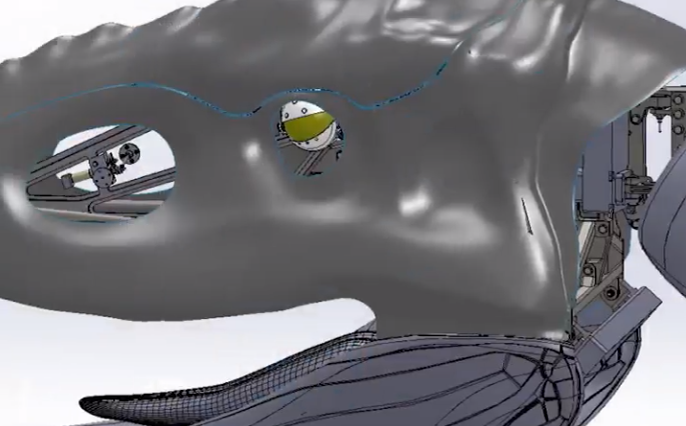 Picture: Advanced Composite Structures Australia
Subscribe to our free @AuManufacturing newsletter here.