Building products group CSR has cut its CO2 emissions three per cent in 2019 as it continues to exceed its targets to cut its impact on the climate.
The manufacturer of Hebel bricks, Monier roofing, Bradford insulation and Gyprock also cut water and enery usage according to its 2019 sustainability report.
Potable water usage was down two per cent, energy usage was down three per cent and waste produced also fell by two per cent.
CEO Julie Coates (below) said the company recognised it must cut its climate impact by optimising energy use and reducing emissions throughout its supply chains.
She said: "All new investments have requirements around sustainability."

CSR has established a $20 million energy improvement fund, with rising energy costs accelerating spending as projects become more financially viable.
Coates said: "To date, eight projects have been approved with work underway on a number of key opportunities across the business.
"We are also in our final stages of developing our sustainabilty targets for CSR for the period out to 2030."
CSR had a target to 2020 of a 20 per cent reduction in CO2 output per saleable tonne of product produced.
The company achieved a 24 per cent reduction.
The company also cut its waste output by more than 50 per cent, but ended p below its target for reducing potable water usage.
The company has developed a comprehensive understanding of the risks facing each of its businesses as the world transitions to a low-carbon future.
The sustainability report says: "We anticipate that there will be economy-wide impacts from this transition, including impacts that have the potential to affect CSR.
"These impacts could vary depending on the future decarbonisation pathway that Australia follows, including how advancements in technology influence that pathway."
CSR estimates that Gyprock, its largest business, is resilient to 2030 on the basis of a carbon price of up to $43 per tonne of CO2.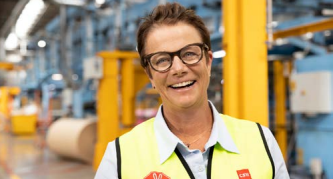 Pictures: CSR/Julie Coates/solar at Bradford insulation, Ingelburn
Subscribe to our free @AuManufacturing newsletter here.