DEWC Systems and REDARC Defence Systems will partner in a multi-year, multi-million dollar agreement in which REDARC will provide the defence Electronic Warfare solutions company with design and manufacturing capabilities.
DEWC Systems CEO Ian Spencer said: "The combined strengths of REDARC and DEWC Systems, we will be able to deliver the latest sovereign electronic warfare systems for Defence."
DEWC Systems, established in 2018, is the first Australian company to launch a payload on a space capable rocket from Australian soil,.

"We have developed several products with applications ranging across a number of industries and with the capabilities of REDARC to support us, DEWC Systems will soon be able to deliver the highest quality products manufactured locally."
REDARC is an advanced electronics manufacturer with sophisticated surface mount technology (main picture) producing a range of automotive and defence electronic products.
REDARC founder Anthony Kittel will join the DEWC Systems board.

Kittel said: "As two Australian SME defence companies, the decision to partner in such a way demonstrates our commitment to providing the best capabilities to our defence customers in Australia and overseas.
"Through collaboratively working under a longer term partnership we can ensure the strengths of DEWC Systems' product design can be supported through REDARC's ability to take products through to manufacture and ongoing sustainment globally."
Products to be supported by REDARC include DEWC Systems' latest product, the Wombat S3 (Smart Sensor Suite, pictured below).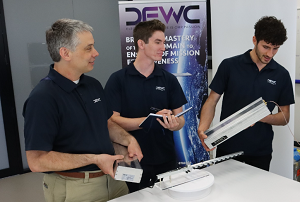 Pictures: Dewc Systems
Subscribe to our free @AuManufacturing newsletter here.