Today @AuManufacturing's editorial series Excellence in maritime manufacturing turns to the Indian Ocean, where Serge DeSilva-Ranasinghe and CDRE Brett Dowsing, RAN (Rtd) suggest a maritime Colombo plan as a contribution to regional security.
From a defence and security perspective, the Indian Ocean region is a zone that has significant untapped potential, yet in many ways Australia's ties to the region remain underdeveloped.
In 2021 former Defence Minister and Ambassador to the US, the Hon Kim Beazley AC's told Asia Pacific Defence Reporter: "In the long-term the Indian Ocean is going to be massively more significant in global politics than it has ever been before, and that is the function largely of the fact that the Asia-Pacific region is massively more significant."

Now as the Governor of Western Australia, his now Delphic pronouncement is more relevant than ever as the Indian Ocean region remains integral to global commons.
It is also the world's third-largest body of water; its littoral zone sustains around 30 per cent of the world's population, and its waters contain the world's most important seafaring routes transporting energy and other essential commodities vital to sustaining the global economy.
Today, Australia has significant and growing interests in the Indian Ocean region with five of Australia's 15 leading trading partners Indian Ocean littoral states which include India, Indonesia, Malaysia, Singapore and Thailand.
Diplomatically, Australia remains a constructive player in the Indian Ocean littoral, with foreign aid programmes, and in the region's multilateral for the Indian Ocean Rim Association (IORA), Indian Ocean Naval Symposium (IONS), Indian Ocean Tuna Commission (IOTC) and Indian Ocean MoU on Port State Control.
However, in terms of regional security the Indian Ocean region is also the location of two of the world's principal narcotics producing regions, is threatened by climate change the increasing occurrence of Illegal, Unreported and Unregulated (IUU) fishing is a matter of serious and growing concern. This impacts on food security and political stability, and in some instances, has dramatically escalated tensions between countries.
Considering the challenges and opportunities that manifest the Indian Ocean region, Australia as a middle power situated in the eastern Indian Ocean puts it in a strong position to contribute to regional security.
Seen in this light it is proposed that the foundation of an Indian Ocean maritime academy should form a cornerstone of an Australian 'Maritime Colombo Plan'.
This is indeed an opportunity that could replicate all the phenomenal advantages of the Colombo Plan of the 1950s to 1970s – albeit within narrower parameters – but with potential to expand across the maritime domain.
"The proposal for an Indian Ocean maritime academy has the potential to fill a very real gap in regional training", according to the Australian Naval Institute's, President, VADM Peter Jones (Rtd).
An Indian Ocean maritime academy ideally located in Perth close to HMAS Stirling would demonstrate Australia's enduring commitment to the region.
Implementation of the concept could be affected quickly, easily and at relatively low cost, could be jointly funded by the Australian and Western Australian governments and should be focused on training and skilling foreign navy and coast guard personnel.
The proposed academy could also leverage Australian industry participation from the naval and marine sector.
As a world-class naval and maritime hub astride the eastern Indian Ocean, West Australian industry has a well-developed and strategically positioned industry sector that could substantially contribute to the proposed academy's foundation, development and sustainment.
Indeed, the academy's curriculum should focus on foundational maritime skills and constabulary duties emphasising seamanship, engineering, maritime logistics, port and harbour security, boarding operations, governance and due diligence, navigation training, watchkeeping, maritime and environmental law, fisheries protection and enforcement, countering maritime crime and piracy, doctrine, search and rescue, humanitarian assistance and disaster relief, operational level headquarters command and control, civil-military relations and maintenance and sustainment.
Western Australia also has the recognised expertise in its tertiary and university sectors to support an institution of this stature.
Given the scale and complexity of the Indian Ocean region's emerging challenges, the potential benefits of establishing an Indian Ocean maritime academy would provide an unprecedented opportunity to engage and shape the development, doctrine and culture of the navies and coast guards throughout some of the Indian Ocean region's littoral states. A worthy Australian contribution indeed.
The Indian Ocean has too long been thought of as 'Australia's second ocean', and traditionally the Australian Government's policies and practices towards this region have been disappointingly irregular and at times lacking in impact and vision.
This, however, must change. The implementation of an Australian 'Maritime Colombo Plan' for the Indian Ocean region would meaningfully enhance Australian soft power in a strategically important, yet volatile part of the world, while providing new economic opportunities for Australian industry.
Serge DeSilva-Ranasinghe is the Founder and Managing Editor of WA DEFENCE REVIEW, and CDRE Brett Dowsing, RAN (Rtd) is the former Senior Officer Western Australia, Australian Defence Force. He is affiliated with WA DEFENCE REVIEW as a Senior Defence Writer.
@AuManufacturing's editorial series Excellence in maritime manufacturing is brought to you with the support of BAE Systems Australia.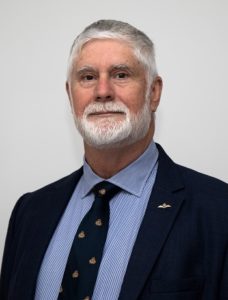 Pictures: Main: navy.gov.au/HMAS Stirling; and top, Serge DeSilva-Ranasinghe and below, CDRE Brett Dowsing
Subscribe to our free @AuManufacturing newsletter here.