Here are the first pictures of the new Ford GT Heritage edition supercar, which is equipped with a new version of the Carbon Revolution road wheels manufactured in Geelong, Victoria.
The single-piece carbon fibre composite wheels are structurally stiffer than the standard aluminium wheels offered on the Ford GT, while at the same time save two pounds of unsprung, rotating weight per wheel.
For this Ford GT Heritage, the Carbon Revolution wheels are finished in Antimatter Blue, which pays tribute to the colour pack of the 1964 Ford GT40 Mk1 and keeps the carbon weave visible in the barrel of the wheel.
According to Carbon Revolution: "It's a standout look for a standout car."
Company president Jake Dingle said: "Carbon fibre wheels are ideal in a vehicle which pushes the envelope of performance as much as the Ford GT does.
"We are proud to continue our relationship with Ford as a part of their newest GT Heritage edition, and to see the wheels finished in beautiful Antimatter Blue mounted to the car."
This is the latest Ford product to feature Carbon Revolution wheels, following the Ford GT, Ford GT 2021 Heritage edition, GT350R, and GT500 which now feature Carbon Revolution's patent-pending Diamond Weave Technology.
The Diamond Weave technology improves the facia of the finished wheel and is part of the company's expansion of capabilities and scale of its Geelong factory.
The wheels are part of a long tradition of innovation by Ford and Shelby.
When Carroll Shelby took over the 1964 Ford GT40 program, one of his first improvements to the car was to switch from the wire wheels first fitted to the car in favour of magnesium wheels which offered a massive improvement in strength.
As technology has progressed from the days of the Ford GT40 to today's Ford GT, carbon fibre has replaced magnesium as it is lighter and with superior strength and stiffness.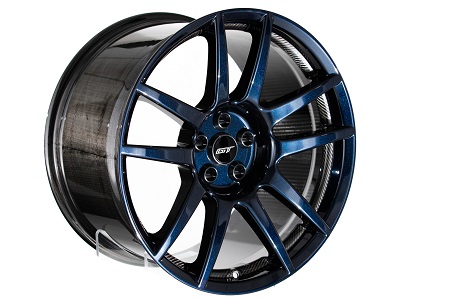 Pictures: Carbon Revolution
Subscribe to our free @AuManufacturing newsletter here.