Today our Frontiers in additive manufacturing editorial series looks at the emerging field of 4D printing. Dr Ali Zolfagharian explains.
Additive manufacturing (AM) technology – involving materials built up layer-by-layer, and also known as three-dimensional (3D) printing – was first developed in the late 1970s and early 1980s by different scientists and engineers around the world. 
Since then, the basic process and technology systems have been evolved to develop objects and structures, mainly using functional materials, for diverse applications benefiting from their mechanical and geometrical properties. 

From 2013, the term four-dimensional (4D) printing was introduced. The fourth dimension refers to a change in the shape, properties, color, or functions of 3D printed smart materials over time in response to external stimuli. In other words, 4D printing could be defined as 3D printing of smart materials to work as dynamic structures and mechanisms, as opposed to merely static but functional constructs made via 3D printing. 
During the past few years, significant efforts have been made in 4D printing by researchers in top institutions and laboratories worldwide to create additively manufactured smart structures.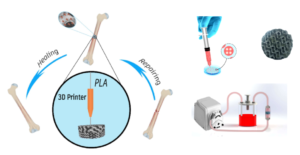 However, 4D printing technology is only in the early stages of research and development, so industries will learn more about it in upcoming years. With the Fourth Industrial Revolution well underway, industries that take advantage of its unprecedented possibilities will undoubtedly have an economic advantage. With this knowledge, institutions, researchers, and students investing in barrier-breaking 4D printing technology are ones with radical potential.

The 4D Printing Society, the first society in the international community focussed on such work, was co-founded by myself at Deakin University, and Dr Mahdi Bodaghi, from Nottingham Trent University, in 2021, through a joint lab collaboration between Australia and the UK. 
The society was established as a platform focussed on available 4D printing technologies for practical solutions to meet existing needs, and researching future methods and materials. The emerging radical ideas in this field and enthusiastic researchers from frontier labs – including Georgia Institute of Technology, Carnegie Mellon University, Nanyang Technological University, RWTH Aachen University, The University of Texas – joined the society soon after it began.
The technical committee has brought together scientists and engineers from diverse backgrounds and disciplines, to offer a forum for discussion, exploration, promotion, and commercialisation of 4D-printed designs and products. 
It is believed that the evolution of 4D printing can benefit in different ways like adaptability, reduction of time, cost, material, energy and labour, requirement for transportation, logistics, and more.
Smart materials in AM is an attractive and multi-disciplinary research direction that demands more than one book, author, or discipline to progress. Therefore, to serve its purpose in meeting the intellectual niche, a series of books, Smart Materials in Additive Manufacturing, has been written. 
The 4D Printing Society proudly presented the first book of the series, prepared by directors from more than 30 international institutions working on 4D printing related topics. The book demonstrates the principles that forefront academics developed for 4D printing in a way that is useful for students and early-career researchers. Smart Materials in Additive Manufacturing, Volume 1: 4D Printing Principles and Fabrication provides readers with an overview of current materials and techniques processed via 4D printing.
Currently, there are relatively limited tools and resources available for including 4D printing in university curricula. So, strategic top-down modelling and designing in 4D printing applications is an ongoing demand. 
To meet this, the 4D Printing Society presented the second volume, "Smart Materials in Additive Manufacturing, Volume 2: Printing Mechanics, Modeling, and Advanced Engineering Applications", focusing on 4D printing from the point of view of engineering design and modelling in new directions. This book is primarily aimed at students and educators studying multidisciplinary fields, either as a self-contained course or as a module within a larger engineering curriculum. There is sufficient depth for an undergraduate or graduate-level course, with many references to guide the student further along the path.
In this book, recent techniques, structural design, modeling and simulation tools and software to realise application-based 4D printing are presented. The chapters present some case studies where 4D printing has proved useful in smart structures and mechanisms, such as textile industries, soft robotics, bioprinting, origami, auxetic and metamaterials, micromachines, sensors, and wireless devices. Readers at diverse levels are given detailed design, modeling, simulation, and manufacturing steps for teaching and learning.
The first international 4D Materials Design and Additive Manufacturing 2022 (4DMDA 2022) Conference will be held in September 2022 by the 4D Printing Society. It will showcase the latest developments and technologies in smart materials, metamaterials, intelligent designs, modeling, AM, and 3D/4D printing, alongside the current issues of concern in the further development of 3D/4D printed devices. 
The conference will provide a forum for internationally recognised experts and young scientists working in the fields of smart materials, advanced modeling, and 3D/4D printing technologies to present their work.
Pictures: supplied
Dr Ali Zolfagharian is Senior Lecturer (Mechanical Engineering) at Deakin University Australia, Alfred Deakin Medalist and Postdoctoral Research Fellowship Awardee, and has a PhD. Eng. from Deakin.

Frontiers In Additive Manufacturing is brought to you through the support of VSF Large Area 3D Printers by CNC Designs.
Subscribe to our free @AuManufacturing newsletter here.