The Hadrian X bricklaying robot system (pictured) has completed its first commercial display house, a project home in the Perth suburb of Dayton.
The robot completed laying the concrete blockwork of the walls on Saturday, capping off a 15 year development process which has seen numerous prototype machines and buildings completed.
FBR Limited, which developed Hadrian X, said the walls of the residence were completed in three and a half standard work shifts.
The robot selects and transports each block to the work space, before each block is laid individually by the robot arm (picture below)
FBR CEO Mark Pivac said today: " Digital construction has taken a significant step forward with the completion of this structure using the Hadrian X, the world's first and only autonomous bricklaying robot.
"FBR is proudly at the forefront of construction robotics globally."
The builder of the display home, Archistruct Builders & Designers, will now complete the display home, including laying a brick facing to the exterior of the structure.
FBR will further refine the system to utilise FBR's F Block, a large aerated concrete block especially developed for Hadrian X which will further speed construction times.
In May FBR entered a joint venture with Brickworks Ltd, known as Fastbrick Australia, to offer 'wall as a service' construction to builders.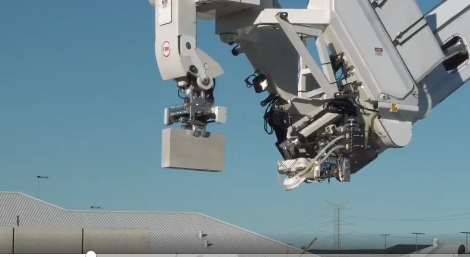 Picture: FBR Limted/Hadrian X on site in Perth
Subscribe to our free @AuManufacturing newsletter here.