Comment by Peter Roberts
Things don't get much better in the tech field than a technology company that has mastered carbon fibre nanotubes to make a step-change in a technology around for more than a century.
But for Micro-X, the Adelaide company that has developed the world's only nanotube X-ray emitter, that mastery is the base now being exploited in new areas.
With the company selling its lightweight, portable X-ray machines in numbers, new fields beckon.
Now the company has won two grants from the US Department of Homeland Security worth $5.6 million that propel it into the lucrative airport security market.
The grants will help develop a self-service baggage scanner and a self-service passenger check-in portal, capable of airport security passenger and baggage screening and automatic threat-detection (illustrated below).
The concept is for multiple X-ray sources which would create a 3D image of passenger and baggage.
One of the grants has been awarded in association with Elenium Automation and Monash Uni MADA.
The company has been carrying out work for the UK Government's Department for Transport as part of its future aviation solutions programme aimed at developing a miniaturised X-ray screening unit for a similar self-service concept.
US transportation security screens two million passengers every day and has an annual budget of US$8.2 million.
Micro-X sees the potential market in the US alone of 8,000-12,000 portals.
This is only one of the fields Micro-X is exploring.
One of the most exciting is to use a backscatter X-ray technique to examine baggage for explosives – this is seen as a far more accurate technology that currently available.
In the past X-rays were created exactly as they always have been – a mechanical system that accelerate electrons through a voltage drop and directing them onto a tungsten plate.
Micro-X's tiny array of perfectly aligned nanotubes replaces that – sitting inside a perfect vacuum a beam can be easily guided electronically.
It is the future, with the young Australian company poised to exploit it.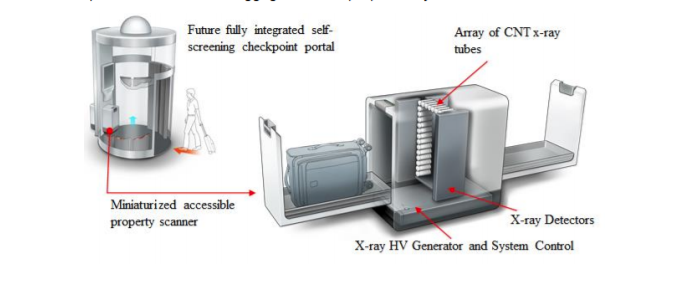 Peter Roberts owns shares in Micro-X
Picture: Micro-X/Nano X-ray machines
Subscribe to our free @AuManufacturing newsletter here.