By RMIT Advanced Manufacturing Precinct and Centre for Additive Manufacture
The 4th International Forum on Additive Manufacturing, delivered virtually on 9 September, 2020 in Melbourne, Australia proved by all accounts to be a great success. 
The Forum general chair Professor Milan Brandt of the Centre for Additive Manufacturing, RMIT University attracted a number of international, regional and local researchers, industry users and technology suppliers to share the latest developments in the fast moving and growing field of additive manufacturing. 
Additive manufacturing is now globally recognised as a mainstream manufacturing technology in a range of industries such as aerospace, automotive, defence and medical. Compared to more traditional subtractive technologies, additive manufacturing offers greater advantages for part complexity, material utilisation and environmental impact. Fully functional parts or products, with many different components, are able to be produced simultaneously and on demand, thereby reducing the cost of production and dramatically accelerating the time it takes to take a product to market.
In his welcoming remarks Prof. Brandt said that, "The main objective of the Forum was to present an opportunity for Australian companies to further their understanding of the prospects, challenges and opportunities in applying additive manufacturing technology". 
The Forum, which is normally held at the RMIT Advanced Manufacturing Precinct every two years, attracted 680 total registrations from all over the world. 580 were logged on at some time during the day, and approximately 200+ were online at any one time.  
The Forum was opened by Richard Taube from Ford, Australia who gave the first keynote presentation on Ford's additive manufacturing roadmap and discussed some advanced automotive applications.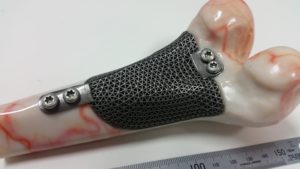 The other keynote speaker was Prof. Christoph Leyens from Fraunhofer IWS, who gave a very comprehensive talk on the science and application of additive manufacturing. 
Some of the other speakers included Prof. Dietmar Hutmacher from QUT who presented on the convergence of additive manufacturing and scaffold-guided tissue engineering, Warwick Downing from RAM3D who gave a very frank account of running an additive manufacturing business in New Zealand, Keren Reynolds from BAE Systems who presented on the laser powder bed manufacture of AlSi10Mg alloy for defence applications, Andrew Sales from AML3D who spoke on the progress of wire arc additive manufacture for industrial large format manufacturing and Jeff Lang from Titomic, who presented on cold spray manufacture of heterogeneous materials for aerospace and defence applications. 
Each presentation attracted significant questions and frequently involved the session chair having to close the discussion and move to the next presenter.          
All the presentations were taped and the videos can be found at this link.
The Advanced Manufacturing Precinct was established by RMIT in late 2011 to deliver integrated teaching and research activities in advanced manufacturing technologies, applied design and product development. The Centre for Additive Manufacturing focusses on research and development of additive manufacturing solutions for local and global organisations.  
Subscribe to our free @AuManufacturing newsletter here.