Comment by Peter Roberts
The graph tells you all you need to know about Australia's – and the west's – failure to secure the crucial processing stages of producing strategic and clean energy materials.
Australia's penchant for sending raw materials overseas unprocessed is well known from our focus on iron ore exports, and is obvious in that basic metal used in electric motors – copper.

While we produce 870,000 tonnes of copper concentrate a year, our smelters that add the most basic element of added-value to the resource have a capacity of only 442,000 tonnes.
Apart from giving away the economy-growing opportunities of processing into higher value products to others, we along with the rest of the world have allowed China to gain a stranglehold on the processing stage of this most valuable metal.
While China is an insignificant producer of the metal ore, it is responsible for 40 per cent of the world's copper production.
The story is the same in lithium, nickel, cobalt and rare earths which are crucial not only to electric vehicles, but in the case of rare earths, to high technology products such as computer drives, touch screens and permanent magnets.
Any semblance of self-sufficiency in processing critical metals has been well and truly sacrificed by Australia, and the west, on the alter of globalisation and chasing supposedly cheaper goods.
The world's electrification plans will likely fail unless we do more processing of raw materials and production of basic chemicals again.
Worst of all is the case of rare earths, where China is by far the biggest producer of final – and most valuable product.
Australia boasts the world's biggest supplier outside China of rare earths in Lynas, but stupidly in my view allowed that company to site its metals processing largely in Malaysia.
Lynas is bringing some elements of the processing back onshore to Kalgoorlie, but only because Malaysian environmentalists have created concerns there of the effects of processing radioactive wastes.
Yesterday @AuManufacturing reported that a second rare earths producer, Australian Strategic Materials, was progressing its Dubbo Project in partnership with Korean investors.
Here, Australia is going to be producing the ores, and Korea doing at least the initial downstream processing.
I recall a global war sparked in Asia when one country sought to secure strategic materials as well as oil.
Really, we have to get serious about this and start processing ores before we export them.
By value-adding locally we create long-term, highly skilled and paid employment.
Instead of celebrating 'jobs, jobs, jobs' of a type produced by building roads, let's invest in jobs that create skill and capability, add value locally, and secure supplies of critical materials for the future.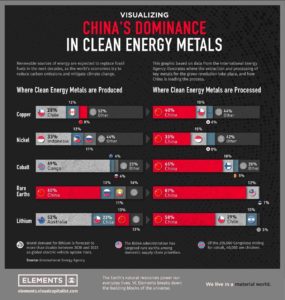 Image: Visual Capitalist
Subscribe to our free @AuManufacturing newsletter here.