Today our editorial series, Leadership in factory automation, looks at the quintessential dilemma, and opportunity for Australian manufacturing – flexible mass manufacturing for the large number of product types needed to satisfy Australia's diverse local markets. Here Peter Roberts profiles Electrolux Home Products.
Electrolux Home Products single Australian factory is what Australian manufacturing has been known to be good at.
While factories in low-cost labour countries overseas churn out half a million identical fridges, washing machines or dryers and enjoy economies of scale, Electrolux's oven factory on Simpson Avenue Dudley Park – just near Oldsmobile Tce – harks back to the good that was Australian manufacturing in the 1980s and 1990s.

Four hundred people at the plant turn out 350,000 ovens a year – that's multiple variations of five brands of single and double ovens, some with grills, some not, in free-standing, built-in and table-top designs and in 600 and 900mm widths.
As if that is not enough Electrolux has invested $30 million on automation and new product over the past three years as it moves to make 400,000 ovens in the new year as the Australian product is launched on the US market – in ovens measuring inches not millimetres wide.
The 150 plus SKUs produced are mind boggling but the plant (pictured below) totally dominates the Australian market.

Electrolux Home Products' Adelaide manufacturing general manager Phil Saloniklis told @AuManufacturing: "I hate to say this but Covid has been a blessing for local manufacturing.
"Some of our competitors haven't been able to get product into the country over the past two years.
"We have had our strongest sales ever, and if we could have got all the components we wanted, we would have made more."
The Dudley Park plant was built in 1935 but has been totally reorganised in the past few years to be more akin to a lean but flexible car plant, as well as having a 2.2MW solar system and back up Tesla battery installed.
Typical are three fully automated door manufacturing cells (main picture), where 13 robots manufacture the myriad of doors needed for Westinghouse, Electrolux, Chef, AEG and Frigidaire brand ovens.
Automated guided vehicles (pictured, below) have totally displaced forklifts inside the factory, shuttling components such as glass to the spot they are needed.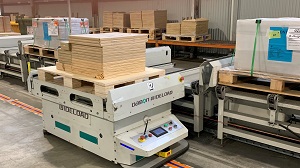 "We have to justify the automation, and we only automate where it makes sense," said Saloniklis.
"But the company has been willing to support us with investment in anything that has a payback of less than three years."
A single 'cavity' manufacturing and enamelling line responds to the 'pull' of orders, producing any one of 120 oven interiors or cavities which are delivered by overhead conveyor to an assembly line to be mated with the body shell, electronics, 15 types of door and so on in one continuous flow process.
An upright oven will be followed on the line by a single inbuilt oven and a double oven…mass customisation in batches of close to one…all destined for a single, fully automated packaging cell where a bevy of robots pack 2,000 ovens a day.
Saloniklis said the company was not so concerned about low-cost competition as it was competing against Electrolux 's numerous overseas factories.
So the latest technology is used – the factory is essentially paperless with work instructions delivered to individual staff computer screens, with the performance of machines and lines visible to Saloniklis from his office desk.
While the plant is highly competitive it has its challenges. The average age of staff is 54 years, suggesting high turnover in the next few years in an era when skilled labour is increasingly scarce.
"Saloniklis said: "We have changed our philosophy to develop skills from from within – previously we went shopping for skill sets on the open market.
"So automation makes sense where we can take labour out and be effective."
This is seen on the $2 million robotic packaging line – where previously 10 people worked, all 10 are deployed elsewhere.
When you are making individual oven types in numbers as few as the 15 upright ovens made each day – you have to automate, but in a particularly flexible Australian way.
Pictures: Electrolux Home Products/Dudley Park factory
@AuManufacturing's editorial series – Leadership in factory automation – is brought to you with the support of Bosch Australia Manufacturing Solutions, and the Innovative Manufacturing Cooperative Research Centre.

Subscribe to our free @AuManufacturing newsletter here.