On the final Friday of @AuManufacturing's Leadership in factory automation series, we speak to Ray Taylor, founder and owner of cutting wheel startup OzCut Abrasives. He reminds us that while there's been a rise in support for local manufacturing lately, you still need be advanced in both products and processes to be viable. By Brent Balinski. 
About three years ago, even before Covid, sentiment was shifting away from imported products among Ray Taylor's metal fabricator customers.
At the same time, the founder and owner of Moove Industries — a supplier of cutting tools, safety gear and consumables — was having trouble sourcing high-quality products from overseas suppliers. 

"They were primarily oriented at high-volume, low- to mid-performance products; we started working with one particular factory over there and tried to develop a high-performance product," he tells @AuManufacturing. 
"To be frank, they just didn't want to invest the time and money in that process. And that sort of led us to the realisation that if we wanted to be a supplier of premium products that we really needed to go out on our own and do it ourselves."
As the first four paragraphs suggest, Taylor decided to become a manufacturer as well as an importer and re-seller. He began the OzCut Abrasives brand and has been producing cutting wheels from Melbourne for a couple of years.

There's a short promotional video spelling out his aim to develop "the best, high-performance 1 mill cutting wheel in the world" (see below) but for now he is going about his business without much noise until a second-generation product is ready for launch.
Development work on this is in collaboration with Swinburne University, with support from an Innovative Manufacturing CRC grant. It is the second project with a university in their city, following automation-focussed work with Monash University in 2019.
For a small company against competition from much larger rivals, high productivity is an obvious must.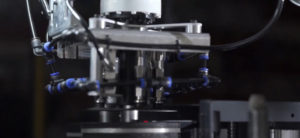 Scaling up began with investment in a pressing machine, able to mould ceramic alumina or aluminium oxide abrasives — mixed with resins, fibreglass reinforcement and other additives — into discs at high throughputs.
It was a choice between a top-of-the-line Italian-made machine for about a million Euro, or a more basic one for a tenth of the price from China. A limited budget saw Ozcut go with the latter. 
"Over a period of sort of 12, 18 months, I recruited two mechatronics engineers, both graduates, and so the three of us worked together and upgraded, modified and I guess turned the Chinese machine into a fully-automated production line," recalls Taylor, adding that current capacity is 500 pieces an hour.
Downstream processing of the company's discs was assisted through a Manufacturing Modernisation Fund-assisted project. 
"Once the wheels are actually pressed on our production line, there's a bit of preparation before they go in the oven for curing," Taylor explains.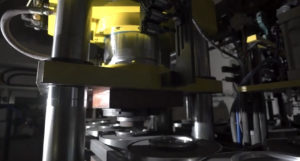 "Then when they come out of the oven, there's a bit more handling and preparation for packaging. …We put in a couple of robots and machine vision, which is doing product quality inspection."
The company has four staff at its Epping factory, and another two at Perth warehouse.
Ninety-nine per cent of sales are currently business-to-business. Distributors are in Brisbane, Canberra and Perth. Their 1.25 x 1 x 22 mm disc is by far the highest-volume item.
Taylor does report an increase in support for Australian-made since Covid arrived, as well as for higher-end products from his target audience. These are advantages, but no guarantee of success.
"Our product is a commodity at the end of the day, and for us to be successful as an Australian manufacturer, we certainly need to combine… both advanced manufacturing technologies together with advanced products," he offers. 
"I think unless you have both of those two attributes working together, it is challenging to manufacture in this country."
Pictures: OzCut Abrasives
@AuManufacturing's editorial series – Leadership in factory automation – is brought to you with the support of Bosch Australia Manufacturing Solutions, and the Innovative Manufacturing Cooperative Research Centre.

Subscribe to our free @AuManufacturing newsletter here.