Today our editorial series, Leadership in factory automation, turns to a greenfields site where Tindo Solar is more than doubling production of solar photo voltaic panels in a totally new factory – and installing as much automation as it can squeeze in. By Peter Roberts
Shayne Jaenisch guides me around the masses of ultra high-tech machinery literally jamming Tindo Solar's new solar PV panel factory now being fitted out, muttering about the narrow space between the machines.
We squeeze between machines, all linked with automatic machine loaders and unloaders, conveyor belts and the occasional product buffer stack, and Shayne points out the newly built roof that had to be raised or the access door that has been blocked by a machine that arrived over-sized and now sits only 20 centimetres distant.
The two connected production rooms are a labyrinth of cutters, laminators, assembly and soldering processes in a single flow process that brings together solar cells sourced from China, frames, glass, electrical contacts and electronics components turning them into rooftop and utility-size solar panels.
Australia's only solar PV plant, already highly automated has become even more fully automated thanks to $10 million committed by owner Glenn Morelli's Homeworks group and a $1 million federal manufacturing modernisation grant.
Momentarily stumped by my question Jaenish looked to the ceiling, paused, umm-ed and said: "What's my automation philosophy for the new plant?
"Simply to make the highest quality panel, that operates at the highest efficiencies with a plant that is able to supply them at the lowest cost.
"Our lack competitiveness has been in part around labour.
"The new plant has twice the number of robots and pretty well every station is automated."
As we walk round the rooms, the number of manual operations comes down to a handful of visual inspections – theoretically not needed but added in to double check quality, a station where junction boxes are soldered, and a station where the solder on bus bars is reheated to ensure a durable connection.
"Where we would have had 15 guys to make the panels, we now have nine."
The new plant has a capacity to produce 150 MW of panels, a fraction of a per cent of the Australian market and tiny compared to demand.
Just one of the many solar PV mega-projects being mooted is for 17-20GW of panels planned for Sun Cable near Darwin – begging the question why Australia has left itself so totally dependent on imports from a single country for so vital a commodity.
Right now Tindo's own engineers are installing the equipment as it has been impossible to source engineers from overseas suppliers.
This, plus massive disruptions to supply chains for imported components, has held back the likely opening date of the new factory to January.
Buoyed by a sea change in consumers who are increasingly seeking our Australian product, Tindo is making a bold attempt to reset the solar PV dial.
The company recently went to market seeking an equity injection of $80 to $150 million, or more if one of Australia's cashed-up billionaires who are spending big on renewables takes an interest.
"We have had an amazing response and there are numerous NDA's out there.
"We are hoping that someone with deep pockets and vision could take what we have built and shake the heck out of the solar industry."
Tindo's vision is not just for more Tindo factories, the first potentially in Queensland, but for investment in producing components from solar cells to glass and frames locally to give us a viable local supply chain, and break our total reliance on imports from China.
It was largely ex UNSW students who returned to China to create today's dominant solar PV manufacturers, and it is time for Australia to have its own industry, said Jaenisch.
Suddenly Tindo looks not so much as a paragon of automation and Australian entrepreneurship and enterprise – but as a catalyst to start a full blown solar PV industry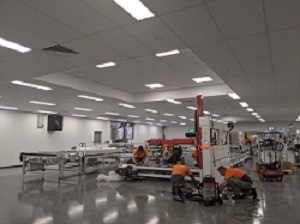 Pictures: Tindo Solar
@AuManufacturing's editorial series – Leadership in factory automation – is brought to you with the support of Bosch Australia Manufacturing Solutions, and the Innovative Manufacturing Cooperative Research Centre.

Subscribe to our free @AuManufacturing newsletter here.