Manufacturers marking time waiting for the economy to recover can start to think of expansion again with movement around our capital cities close to pre-Covid-19 levels in some cases.
An analysis of movement data in Australia's capital city CBDs by Roy Morgan and UberMedia shows people are moving round at their highest levels in over a year in both the Melbourne CBD and Adelaide CBD.
In the week to April 11 movement levels derived from mobile data in the Adelaide CBD were almost back to pre-COVID times.

At 94 per cent of pre-COVID levels, movement in Adelaide was the highest level since mid-March 2020.
Movement in the Melbourne CBD was 52 per cent of pre-COVID normal last week – lower than any other Capital City CBD.
This was still the highest level of movement for over a year since late March 2020.

Movement in CBDs plunged to 30 per cent of normal in the depths of the pandemic….but are now clearly recovering.
It is perhaps no co-incidence that the cities with the least Covid – Adelaide, Perth and Hobart are more normal than Brisbane, Sydney or Melbourne which suffered the biggest outbreaks.
The Sydney CBD movement levels were at 56 per cent of pre-COVID normal last week, Hobart at 75 per cent and Perth at 79 per cent.
With people back in the cities…manufacturing must be looking up.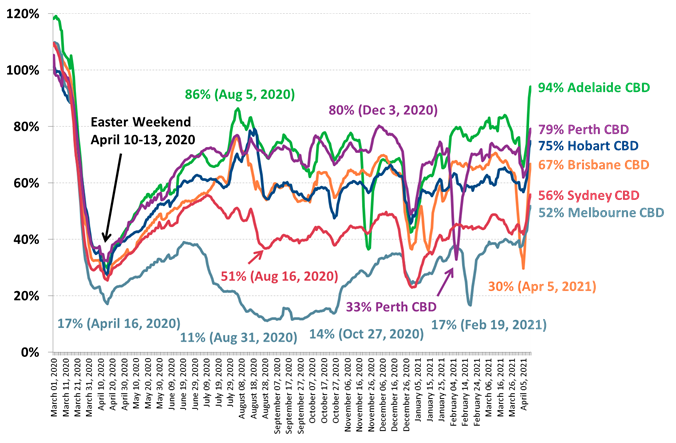 Image: Roy Morgan/UberMedia
Subscribe to our free @AuManufacturing newsletter here.