The importance of design in industry is highlighted in this year's Victorian Premier's Design Award which highlighted the benefits design brings to manufactures.
Judges by an expert panel of 27 independent judges from a field of more than 200 projects, several manufactures won Best in Category awards.
Kore Geosystems' SPECTOR automated mineral core sampling instrument (main picture) designed by the Design + Industry practice won a best award.

SPECTOR is a high-resolution instrument built on a robust platform to withstand the harsh conditions, dust and temperature variations found on drilling sites.
Replacing time-consuming manual core sampling inspection, when fully assembled SPECTOR weighs over 400kg.
To make it easy to use in the field, the user interface features a large touchscreen display, ergonomically mounted on an articulated arm, for viewing and logging of core scans.

Gecko Traxx (below) is a portable and affordable wheelchair accessory that enables off-road access for manual wheelchair users.
Ryan Tilley won for his design in the student category.
A flexible set of tyres which simply wrap around the existing on-road tyres of a manual wheelchair can handle challenging terrain, giving immediate off-road capability.
The design of the tyre allows for easy, independent use, providing wheelchair users with an affordable, portable and more spontaneous way to access and enjoy the great outdoors.
Clare Olding of St Michael's Grammar School designed the St Kilda Inclusive range of classroom furniture (below) in commonly used pine plywood, bamboo veneer, polystyrene sheet and dowel.
But design innovation allows for use by primary school children with learning difficulties.
The product considers movement, boundaries and ergonomics to create an adaptable and modular arrangement.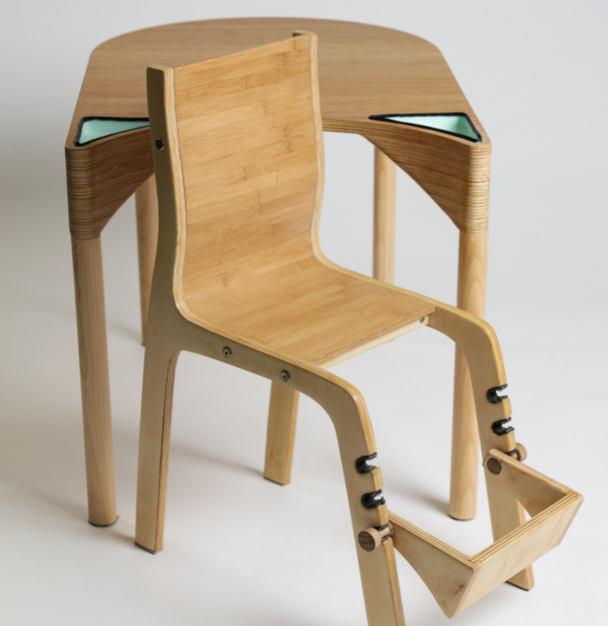 The A.BCH designs for women's fashions won a best category for their suitability for a circular economy.
All threads, elastics, interlinings, dyes, fibres, buttons are designed for a pre-determined lifecycle that continues through recycling.
Many raw materials are created from un-recyclable, synthetic materials often combined with natural materials, making recycling a nightmare and degradability impossible.
A.BCH designs use textiles diverted from landfill, yet create desirable and elegant garments.
Pictures: Victorian Premier's Design Award
Subscribe to our free @AuManufacturing newsletter here.