Redflex agrees to sell out to Verra Mobility
Traffic systems and data company Redflex Holdings has agreed to a cash takeover by NASDAQ-listed transportation technology group Verra Mobility valuing the local manufacturer at $146 million. Directors unanimously backed the bid, which does not appear to include any assurance about the continuation of local R&D and manufacturing operations. Shareholders will vote on the proposal at a special meeting expected in May, and will receive 92 cents for each share they hold. On Thursday Redflex's shares closed at 40 cents, indicating a premium of 130 per cent.
Lithium Australia gains patent protection for production process
Materials group Lithium Australia's VSPC subsidiary has received European patent approval for its process to produce nano-structured metal oxides. The process, being proved in VSPC's Brisbane pilot plant (pictured), controls the chemical composition and distribution of critical elements in a crystal structure. Used to manufacture fuel-cells, supercapacitors, catalysts and battery materials, the materials perform best when characterised by very small particle size with a high surface area. VSPC has produced battery anode materials such as lithium titanate, and plans to produce other lithium-rich metal-oxide cathode materials.

Oventus records record quarterly device sales
Obstructive sleep apnoea device manufacturer Oventus has booked record sales of its O2Vent device in the December quarter of $301,000 despite continuing interruptions from the Covid-19 pandemic. Revenues came from device sales, the operation of lab-in-lab sites which measure and fit the O2Vent, and telehealth operations. The Brisbane company has contracts for 64 lab-in-lab sites in place. The company's cash balance is $4.8 million.
Cortical Dynamics gains European patent protection
MedTech developer Cortical Dynamics has received European patent cover for its Brain Anaesthesia Response Monitor (BARM). A patent for the neurodiagnostic monitoring and display system is now in place in Belgium, France, Germany and United Kingdom. BARM is now protected by six patent families and 26 granted patents.
Jatcorp raises $2.8 million from investors
Dairy manufacturer and China export specialist Jatcorp Ltd has raised $2.8 million in a share placement to sophisticated and professional investors. The funds will go to expand the company's Australian Natural Milk Association (ANMA) plant in Melbourne and the development of new products.
First Graphene accelerates focus on energy storage
Advanced materials developer First Graphene is accelerating its involvement in the development of products in the energy storage area. The company is focusing on improved solar energy collection, advanced supercapacitor materials, alternatives to spherical graphite in battery anodes and a process for manufacturing green hydrogen. The company continues its commercialisation of its PureGRAPH graphene product range, and is in discussion with 70 potential graphene customers. The company manufactures graphene at its plant at Henderson south of Perth (pictured below).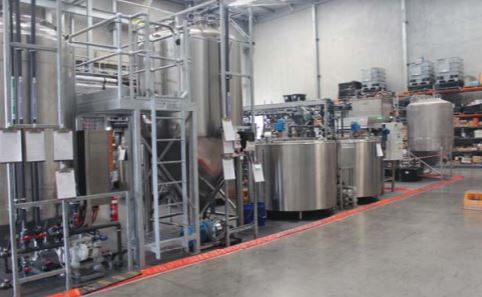 Picture: VSPC/Brisbane pilot plant
Subscribe to our free @AuManufacturing newsletter here.