The Australian Army has conducted its first live-fire of the National Advanced Surface to Air Missile System (NASAMS) at the Woomera test range in South Australia.
While the NASCAMS system, in service globally including in Ukraine, is Norwegian, the Army has integrated unique radar technology from Canberra's CEA Technologies into its Australian systems.
The firing by the 16th Regiment, Royal Australian Artillery, was a step forward in
preparing Army to meet the challenges outlined in the Defence Strategic Review, according to the Chief of Army Lieutenant General Simon Stuart.

Lieutenant General Simon Stuart said: "The firing of this world class capability is a significant milestone for the modernisation of Army supported by defence industry partners."
The new capability comprises an integrated system between a Kongsberg launch platform, a
Raytheon AIM-120 AMRAAM missile and radars from CEA Technologies.
CEA has delivered its HX77 truck-based CEAOPS systems (pictured, below) and the Hawkei based CEATAC systems as the radar solution for NASAMS under project Land 19 Phase 7B.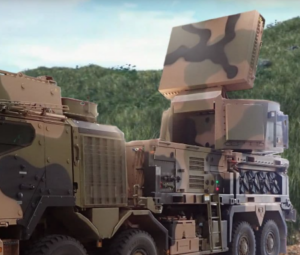 Both employ active electronically scanned arrays (AESA) to deliver strategic and tactical protection for a Joint Force.
NASAMS will replace current legacy RBS-70 man-portable air-defence systems.
Head of Army's Land Systems Division, Capability Acquisition and Sustainment Group, Major General Andrew Bottrell said: "Land Systems Division's collaboration with Raytheon Australia, Kongsberg and CEA Technologies is testament to the knowledge, skill and commitment of all teams to deliver this highly complex capability."
Picture: Defence/PTE Nicholas Marquis/NASAMS system fires an AIM-120 Advanced Medium Range Air to Air Missile/CEA Technologies