Australian explosives group Orica and Swedish equipment supplier Epiroc have combined to develop the world's first semi-automated explosives delivery system for underground mining.
Their new Avatel system (main picture and below) will remove people from the blasting face – the most dangerous place underground – providing a safer, more efficient and productive blasting environment when it is released in 2021.
The solution allows an operator inside a vehicle cab to deliver explosives to the blast face.
Orica's Chief Commercial and Technology Officer Angus Melbourne said: "The mining industry is moving rapidly toward a digitally integrated and automated future, and Avatel will fulfil our shared vision of developing safer and more productive blasting solutions.
"Achieving this significant development milestone, despite COVID-19 disruptions, shows the strength of our collaboration with Epiroc and our collective ability to deliver the future of mining."

Orica is a world-leading manufacturer of explosives and initiating systems, and has developed a suite of digital mining solutions, while Epiroc manufactures underground mining equipment and consumables.
Epiroc's underground division president Sami Niiranen said the Avatel prototype represents the first step towards autonomous charging – a vital step in the journey toward safer and more productive blasting operations underground.
"We are looking forward to bringing this ground-breaking solution to customers worldwide."
Avatel incorporates Orica's WebGen fully wireless initiation system, its LOADPlus smart control system, and Subtek Control of bulk explosive emulsion.
The system, built on Epiroc's Boomer M2 carrier, is a a twin boom, semi-autonomous and fully mechanized explosives charging solution that allows a single operator to complete the entire charging cycle from the safety of an enclosed vehicle cabin.
Extensive trials of Avatel will take place throughout 2021, before the first commercially available systems are expected to enter service.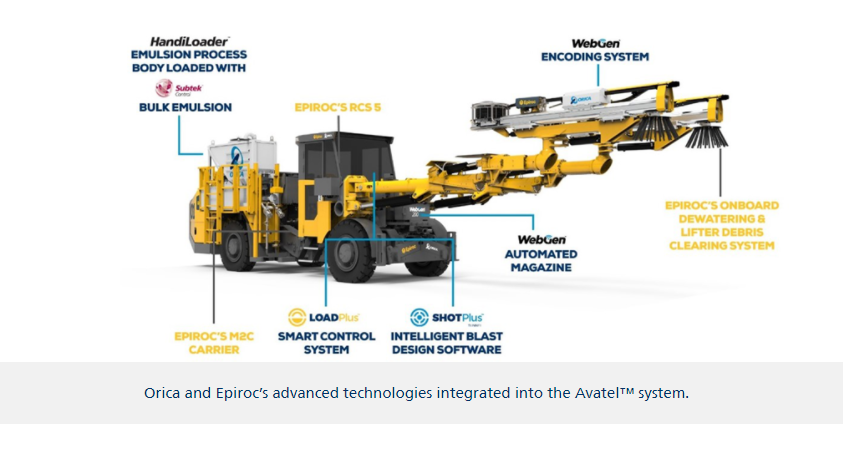 Images: Orica
Subscribe to our free @AuManufacturing newsletter here.