Profiles of success by Brent Balinski
It's a story that began with a chemist mixing up a pine tar bath solution to soothe his son's cradle cap. 66 years later it continues to be written by a family-owned company employing over 600 worldwide, and which calculates its expansion at 13 per cent per year for the last 40 years.
Vital to Ego Pharmaceuticals' enduring success is remaining in the family's hands, believes Dr Jane Oppenheim. Oppenheim is the company's scientific and operations director and was the winner of the Clunies Ross Entrepreneur of the Year Award last Thursday. Her husband Alan Oppenheim is son of company founder Gerald.
"Being privately held, we are able to plough back the profits into the growth and the development of the company. Privately held gives us control; I think that's the essence of it.
"And I don't think we would have been able to grow at the rate that we have if we had other shareholders, and would've been distracted in other ways."
Oppenheim joined dermatological products company in late-1988 as its research director – following a PhD in biochemistry and post-doctorate studies in immunoparasitology – before becoming scientific director and, 12 years ago, taking on the operations as well as scientific directorship.
In that time the scientific team's headcount has grown from six to almost 70, spanning categories including quality, analytical chemistry, R&D, scientific communication, and regulatory affairs.
"We're really proud of the fact that we can take ideas, and we can transform those ideas into really successful products, that we can go out and do global launches with," she explains.
"It's a tremendous opportunity there for us to really do creative things in Australia."
The company's products number over 120, including Pinetarsol (with its origins in the original pine bath solution), anti-ageing products, insect repellant, hand sanitisers and sunscreens. These are all made at Braeside, before being taken to the company's admin and distribution centre in Dandenong South, which was officially opened in 2018. Roughly 50 per cent of the company's sales are export, and its awards include the 2017 Australian Exporter of the Year.
Keeping production in Australia is, like remaining privately-held, a matter of control.
"We're constantly looking at new products and reformulation of our products to keep [them] state of the art," says Oppenheim, adding that the company invests heavily in Industry 4.0-related technology, which will narrow the gap between sales and manufacturing.
"We have to be cost competitive, and to do that we're constantly automating what we do, and embracing new technologies, and really addressing our critical challenges," she says.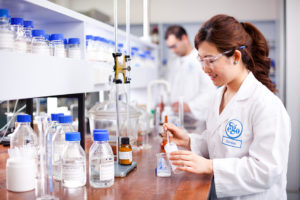 "Manufacturing is just vital to all of that. Having control over that, being able to do it ourselves and being able to make the link between seeing where the growth is coming from, and where we need to expand to be able to keep up with that growth. I think we're really lucky to be able to make those connections and have that control in-house."
When asked about investments in R&D as well as production technology, Oppenheim says this is hard to quantify. Innovation is company-wide, including products, processes, marketing, sales and elsewhere. Her answer mentions that innovation takes in everything from ERP software to the company's artwork database. (Ego incidentally earned it a place on The Australian Financial Review's Most Innovative Companies list last year.)
Her response on the importance of manufacturing is similarly holistic. Business at Ego means business for everyone from the architects that build new facilities to contract engineers, ingredient suppliers to those who wash the company's uniforms.
Having manufacturing succeed is important, believes Oppenheim, "not only to the success of [us] but to the success of the whole of Australia."
"I believe that manufacturing in Australia is so important. I'm just delighted to be part of Ego and be really committed to continue to manufacture in Australia, because manufacturing is really the base on which a society is built."
Featured picture: Ego flammable manufacturing facility (Crosier Scott Architects)
Subscribe to our free @AuManufacturing newsletter here.