2018 was a record year for new large scale renewable energy generation plants built in Australia, according to new figures from the Clean Energy Regulator.
The regulator's December Large Scale Renewable Energy target (LRET) market highlights, reported that large scale photo voltaic projects were the major contributor to accredited national capacity which has reached 3.3 gigawatts (GW).
Once accredited, the power stations can create large scale generation certificates, which can be dold on the open market.
More than two GW of solar PV was added in the year.

The regulator noted that Australia's 360 large scale renewables power stations plus those under construction would see the country far surpass the renewable energy target of 33,000 gigawatt hours of additional renewable energy generation by 2020.
This is on top of booming rooftop solar installations. In December the regulator reported that two million households had installed rooftop solar.
Modelling shows the upfront cost of an installation can now be repaid within five years in all Australian capital cities.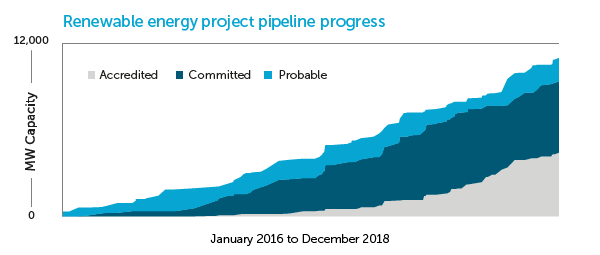 Graph: Clean Energy Regulator
Picture: Precision Components
Subscribe to our free @AuManufacturing newsletter here.